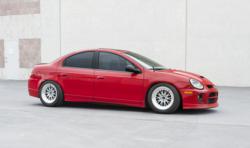 ...road testing was done over the course of several months to ensure the spring and damping rates are appropriate, providing a stiffer but comfortable ride quality over stock
Riverton, Utah (PRWEB) December 07, 2012
Raceland today announced pre-orders of its newest Dodge Neon SRT4 coilovers. Supplies are limited and customers who purchase now will have their orders shipped around the second week of February. The new Raceland SRT4 coilovers are designed to give owners the ability to lower the ride height of their cars without compromising ride quality. With adjustable perches, owners can adjust the ride height of their cars one to three inches below the stock ride height to fit the tastes of those who like a mild drop to those who want a more aggressive drop. Test fitment and road testing was also done over the course of several months to ensure the spring and damping rates are appropriate, providing a stiffer but comfortable ride quality over stock.
The coilovers make use of the stock OEM upper strut mounts to provide a more forgiving ride while still increasing the performance and handling of the vehicle. This is particularly important for a daily driven vehicle where a stiff track-type setup may be too aggressive and exhausting. The springs and dampers are well matched to provide a healthy amount of travel and will perform effectively no matter how low the vehicle is set within the adjustment range. To adjust the ride height, the springs are raised or lowered by adjusting the spring perches with the supplied spanner wrenches. It is also important to keep in mind that with an offset that is more aggressive than the stock wheel offset, there may be a need to run wheel spacers or to roll the fenders of the vehicle to prevent any rubbing when lowering the vehicle.
Raceland stands behind their products by backing them with a 2 year warranty and a 30 day money back guarantee so if you do not like the, return them for a refund.
About the company:
Raceland USA was founded in 2009 with the objective to provide car enthusiasts performance parts at an affordable price by selling direct. What that means is you are buying products at or below distributor pricing. For more information, visit http://www.raceland.com.