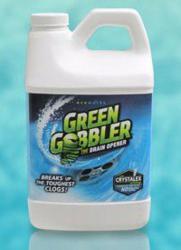 Green Gobbler is powerful at clearning drains using a proprietary blend of natural ingredients
Farmingdale, NY (PRWEB) December 10, 2012
Green Gobbler™, the first environmentally-friendly drain opener, is being offered at a 40% discount for the Holiday Season, when drain clogs can occur more frequently. Green Gobbler™ is powerful at clearing drains using a unique and proprietary blend of natural ingredients that meet green guidelines outlined by the Environmental Protection Agency (EPA) -- it is 100% biodegradable and non-toxic and its production process generates no waste.
Green Gobbler™ was developed by EcoClean Solutions for the company's professional maintenance customers around the world, who use it in office buildings, apartment buildings and restaurants. Green Gobbler™ was so well-received, the company decided last year to make it available to consumers directly for use in their households.
"It had been decades since technology brought a major advancement to drain cleaning," said Matt Sternberg, founder of EcoClean Solutions and co-inventor of Green Gobbler™. "This formulation is a significant breakthrough that offers an effective solution to an age-old problem with less risk to the user and to the environment."
Green Gobbler™, which comes in a granular form that is easy to measure and pour, combines the natural ingredients with new Crystalex Technology to liquefy solids such as food, grease, cooking oil, hair, soap scum, organic waste, feminine products, and any kind of paper products that tend to clog drain lines.
"It can be easy to lose track of what's being poured or flushed around the house, especially when preparing a lot of meals and entertaining guests," said Sternberg. "This time of year we always witness an increase in clogged drains. If water starts backing up, it should be addressed right away, and professional strength Green Gobbler™ may be able to clear it up without the need for a plumber."
Product details
Green Gobbler™ can be used in sinks, tubs and toilets, is safe for pipes and septic tanks and will not damage drains. It is safe to use around areas where food is being prepared. Unlike commonly used liquid enzymes, the active components in Green Gobbler™ do not take effect until the grains combine with water in the pipes. Because of its granular formula, Green Gobbler™ doesn't splash, and if a spill should occur, it's easy to clean up.
Green Gobbler™ is available in two sizes, 6 lbs. and 3 lbs. One 6 lb. bottle treats 6 clogs and is regularly priced at $49.95 with a limited time offer of $29.95 (40% off) at Amazon.com. One 3 lb. bottle treats 3 clogs and is regularly priced at $29.95 but available for a limited time at $15.95 (a 47% discount) at Amazon.com. Because it is concentrated, Green Gobbler™ often provides more uses per container, and therefore may be less costly, than other drain cleaners. http://www.amazon.com/GREEN-GOBBLER-PRO-Crystalex-Technology/dp/B002G547F6
The active ingredient in Green Gobbler™ is part of a patent-pending, proprietary blend of ingredients, all of which can be found in nature. Its formulation follows principles of green chemistry as described by the EPA and the California Department of Toxic Substances Control. Green Gobbler™ works as an emulsifier to liquefy solids.
About EcoClean Solutions
EcoClean Solutions was established in 2002 in Farmingdale, New York to provide a full array of cleaning and maintenance supplies for professional use. The company offers hundreds of products used for general cleaning, carpet care, ground maintenance, water treatment and more.
EcoClean Solutions began developing a green product line in 2008 and now offers seven types of green products, including Green Gobbler™.
The company now serves customers from three offices in Farmingdale, New York; Ontario, Canada; and London, England. More information can be found at: http://goecocleansolutions.com/
# # #