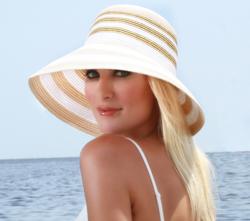 This year give the gift of sun protection
Kentfield, California (PRWEB) December 05, 2012
It is fun to be out in the sun but it can be harmful and aging. This year give the gift of stylish sun protection your entire family will want to wear. SolEscapes carries the best brands on the market: Physician Endorsed, Coola Suncare, Victory KoreDry and Snapper Rock.
Sun Protection Shopping Tips:
Sun Hats
– Choose sun hats which are independently tested and rated 50+ UPF. This is the highest sun hat sun protection rating available.
– Look for a wide brim hat with a brim size of more than 3 inches to give you optimal sun protection.
– Vacationers love Physician Endorsed packable sun hats. Many of them are easily folded or crushed into your suitcase.
Suncare: Sunscreen and Sunblock
– Choose a sunscreen or sunblock with both UVA and UVB protection.
– Select high SPF broad spectrum sunscreen for extensive outdoor and beach activities.
– Natural and organic sunscreens without unnecessary chemicals are better for the health.
– Sport or water resistant sunscreens are preferred at the beach and pool.
– Beach goers and pool loungers love Coola sunscreens, which are easy to apply (spray or lotion) and have wonderful scent and scentless options.
UV Swim Shirts and Rash Guards
– A swim-shirt should be tested and rated 50+ UPF.
– They should be made of non absorbent fabrics.
– Raglan sleeves and flat lock stitching ensures comfort.
– Men and women love Victory KoreDry swim shirts for the comfort, durability and stylish colors.
– Parents and kids alike love Snapper Rock swim wear collection. It offers functional, fun and stylish swimwear with the sun protection you can trust.
Sunglasses
– Most people use sunglasses to cut the strong light but sunglasses with UV 400 protection are essential for protection and health of your eyes.
– Fashionistas love sunglasses from the JBK collection giving them sophisticated, stylish and affordable sun protection.
SolEscapes is a California based online boutique offering a unique selection of stylish and practical sun, beach and resort essentials for all your warm weather needs. SolEscapes offers personalized service, high quality products and fast affordable shipping. Merchandise including all beach hats are carefully and beautifully packaged to ensure a perfect arrival. For more information please visit solescapes.com. You can also connect with SolEscapes on Facebook, Twitter and Pinterest.