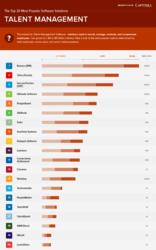 We are constantly looking for better ways to approach the data in order to end up with an accurate picture of the marketplace.
(PRWEB) December 11, 2012
Capterra, a free web service that helps people find the right software for their business, released an infographic titled The Top 20 Most Popular Talent Management Software Solutions. By publishing this infographic, Capterra hopes to draw attention to the entire talent management software industry while also highlighting some of the top vendors in the space, such as Kenexa, Taleo and SuccessFactors - named the top three most popular solutions.
"We can't stress enough that this list does not imply that these are the best solutions in the talent management market. Rather, these are the ones that we determined to be the market leaders based off of the popularity index," said Capterra President and CEO, Michael Ortner.
The vendor rankings were determined by a popularity index that consisted of three components: number of customers (40%), number of end users (40%) and online presence (20%). The online presence metrics included traffic estimates from Compete.com, as well as the company's number of LinkedIn followers, Facebook page likes, Twitter followers, and Klout scores – each weighted equally to comprise 20% of the vendor's overall score.
This infographic is the fourth in a series of "Top 20 Most Popular" rankings done by Capterra. "As we move along with this series, the research continues to become more detailed and involved," said Ortner. "We are constantly looking for better ways to approach the data in order to end up with an accurate picture of the marketplace. This means researching additional data points as we go along just to fact check that our research is on the right track."
Talent Management software gives employers the tools to accurately manage, evaluate and compensate for employee performance. By tracking performance and standards, Talent Management software allows companies to create and maintain a high-performance workforce. Organizations can determine which talent management program is right for their needs by visiting Capterra's Talent Management Software Directory and comparing more than 300 solutions.
About Capterra
At Capterra, we believe software makes the world a better place. That's why we love connecting buyers and sellers of business software. Our website shows companies all of their options and provides free tools to help them make the right decision. We provide software companies with a free listing on our comprehensive directory and give them the opportunity to upgrade for more exposure. For more information, visit http://www.capterra.com.