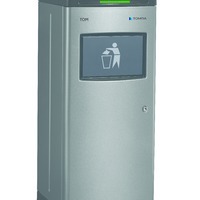 For organizations that that struggle with overfilled bins, TOM is a clean, intelligent alternative.
Stamford, CT (PRWEB) December 07, 2012
TOMRA Collection Solutions, a unit of TOMRA North America, today announced the release of TOM, new waste system for public spaces that is a trash receptacle and compactor in one. TOM – which takes up about as much space as an ordinary trash bin – can hold up to seven times more waste than the conventional bin, and is idea for use in cafés, restaurants, transportation hubs, malls, arenas, parks and supermarkets.
TOM is ideal for compacting lightweight waste in crowded high-traffic areas. For retailers, public venues and other business, that means less time spent on waste handling, and more time devoted to customers and core activities.
For organizations that that struggle with overfilled bins, TOM is a clean, intelligent alternative. It has a sharp sensor-based eye that automatically opens its shutter when someone is approaching. The touch-free automatic shutter contributes to a hygienic and germ-free environment. TOM can also be adjusted for periods of high or low traffic, and its bag can be emptied either from the front or back. As an option, TOM can communicate with managers digitally to alert them when TOM has reached capacity and needs its bag changed over.
In addition to keeping premises clean, TOM can help organizations with their sustainability efforts. Compacted waste needs less space for storage and transportation, leading to fewer trips to the landfill, significantly lower transportation costs and reduced CO2 emissions. TOM can also help compact redundant packaging in a supermarket recycling center, as well as in other retail establishments.
Designed to fit any environment, TOM can be neutral or used as a platform for billboard-style advertising. For more information about TOM, contact 800-747-0449 or sales(at)tomrana(dot)com.
About TOMRA
TOMRA was founded on an innovation in 1972 that began with design, manufacturing and sale of reverse vending machines (RVMs) for automated collection of used beverage containers. Today TOMRA is active in more than 50 markets worldwide and had total revenue of approximately 3.5 billion NOK in 2010. TOMRA has over 1,800 employees and is publicly listed on the Oslo Stock Exchange. The TOMRA Group continues to innovate and provide cutting-edge solutions for optimal resource productivity within two main business areas: Collection Solutions (reverse vending, material recovery and compaction industries) and Sorting Solutions (recycling, mining and food processing industries). TOMRA of North America, Inc. started operations in 1985 and is headquartered in Shelton, CT. For more information, visit http://www.tomranorthamerica.com or call 800-542-2569.