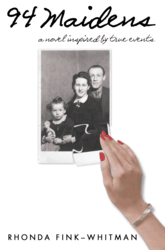 Media personality, award-winning screenwriter and Jewish educator Rhonda Fink-Whitman says, 'It wasn't my choice to write 94 Maidens; it was my responsibility.'
Philadelphia, PA (PRWEB) December 12, 2012
When the unimaginable is the only thing left to do… Inspired by true events, "94 Maidens" is an unforgettable story of heroism, resistance, martyrdom and survival by screenwriter, television and radio personality and Jewish educator Rhonda Fink-Whitman. In this new book, an American "shop from home" TV host, hell-bent on helping her aging mother heal from scars left by the Holocaust, travels to a secret location in Germany and pitches her way into the world's only sealed Nazi archive.
Inside, she gets more than she bargained for when she uncovers her connections to a young Jewish family playing a perilous game of cat and mouse with the Nazis in the final days of Hitler's Berlin and a group of Jewish school girls in occupied-Poland who, dressed only in cotton nightgowns, are no match for the Nazi beast -- or are they?
Will the truth set her mother free? And how will her journey of discovery change her life...forever?
To schedule Rhonda Fink-Whitman for an interview or appearance, contact the author at http://www.94maidens.com, 94 Maidens on Facebook, or @94maidens on Twitter.
Look for 94 Maidens eyewitness accounts on YouTube.
"94 Maidens" (2012, Dog Ear Publishing) is available through Ingram, Amazon.com, Barnes & Noble, and fine bookstores everywhere.
94 Maidens: A Novel Inspired by True Events
Rhonda Fink-Whitman
Dog Ear Publishing
ISBN: 978-1-4575-1277-3
304 pages
$15.00 US
$9.99 Kindle