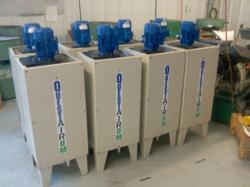 Exposure to mineral oil mists can cause eye, skin, and upper respiratory tract irritation as well as central nervous system effects in humans. (OSHA Guidelines, [Hathaway et al. 1991])
Lewiston, ME (PRWEB) December 10, 2012
Aquest Corporation has begun production on a new line of oil mist collection equipment. The new system features three stages of filtration and is highly efficient.
The Quest Air OM500 is unitary in design and can be placed on the top or on the side of CNC machines. There is little operational and maintenance costs associated with the unit.
Aquest Corporation has utilized multi-layered filter technology, a process that works based on a continuously draining filter.
First stage filtration is a passive cyclonic airfoil that separates larger particles. Second Stage filtration is a Bernoulli chevron that collects and separates smaller particles. Final Stage filtration is the continuously draining filter that removes finer particles.
The main filter provides high efficiency over a long period of time and lowers overall maintenance and filter replacement costs.
Filter longevity is always a concern with potential customers. Aquest has been able to produce an oil mist collector that collects mist at a high efficiency and returns it back to the machine or sump.
The Quest Air OM500 can be hung from the ceiling, set on the floor or placed on top of a CNC machine. It has a small footprint with a base of 16" by 16".
Each oil mist collector comes with a pressure trap located on the bottom of the unit. This p-trap can be used to return draining oils to the CNC cabinet or the sump of the machine.
Due to increased OSHA awareness, oil mist collection has become a must for companies. Oil mist has been discussed as a contributor to respiratory illnesses and skin irritations. It also presents many problems when is collects on horizontal surfaces.
Aquest and its engineering team have developed an oil mist collector that is lightweight, simple in design, cost-effective and made in the United States of America.