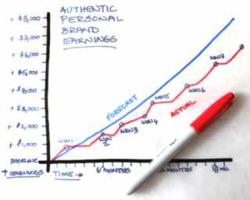 Most people don't know their personal brands can increase their earnings, producing measurable financial gains they can track every month and every year for the rest of their lives.
TORONTO, CANADA, DECEMBER 5, 2012 (PRWEB) December 05, 2012
After leading a comprehensive 3-part tele-class series on how to measure and validate the results personal brands produce, Authentic Personal Branding System Inventor and personal brand pioneer, Rosemary Davies-Janes, was both gratified by the positive response, and surprised by participants' questions.
"Back in the late 90's when I launched my full service personal brand agency, MIBOSO, hardly anyone knew what a personal brand was, how it worked, or how it benefited them," she said. "Since it's no longer just me and Tom Peters offering expertise in Personal Branding, and there's so much information available, I thought public awareness of personal branding processes, features and benefits would be much higher today. But it turns out; I was wrong."
Instead of the expected questions on MIBOSO's:

Personal branding metrics and validation analysis
Personal brand monetization process
Personal branding clients' 6-figure earnings boost
and average of 30-days/year time savings

The lifetime benefits of personal branding
Many of "The Truth About Personal Branding Series" participants wanted to know:

What is a personal brand?
How does personal branding work?
What will personal branding do for me?
How do I develop my personal brand?
Is an off-line personal brand different from an on-line personal brand?
"Having more information available has indeed raised awareness of personal branding," Rosemary observes. "But it hasn't heightened people's understanding of what personal branding can do for them. Most don't know that their personal brands can increase their earnings, producing measurable financial gains they can track every month and every year for the rest of their lives. Few realize that by making brand-driven choices, they'll save hours each week; time they can spend enjoying their personal interests, advancing their education, professional skills, careers, or businesses."
"The bottom line," she concludes, "Is that people who have Authentic Personal Brands can look forward to saving hundreds, even thousands, of dollars each year. They can increase their earnings, reputation, happiness, satisfaction, and much more, this year, next year, and far into the future."
MIBOSO's free 3-part series "The Truth About Personal Branding," is now available "On Demand." at http://authenticpersonalbranding.com/classes/. For a limited time, people who missed the live series can access the On-Demand materials for free. Class notes, audio recordings, and surprise bonuses from the live tele-classes are included.
Additional related articles, posts, written and audio products available on MIBOSO's websites: http://authenticpersonalbranding.com, http://authenticbranding.com and http://mibosocoach.com.
MIBOSO® is a trademark owned by Rosemary Davies-Janes. All rights reserved.
ABOUT MIBOSO® Authentic Branding
MIBOSO® Authentic Personal Branding products and services give you the words, systems, and codes that convince prospective clients or employers to choose you. You gain the understanding and skill to express your Authentic Personal Brand with confidence, driving both your personal and business success.
MIBOSO® Authentic Business Branding products and services deliver the insights, tools, and tactics that attract and retain customers, grow sales, and build brands.
ABOUT MIBOSO® CEO & Founder, Rosemary Davies-Janes
Rosemary's agency work and leadership of advertising departments for multi-national retail giants supported some of the world's best-known brands. In 1998 Rosemary founded MIBOSO®, a full service brand agency that delivers Personal and Business Branding services to clients around the globe. Blending her corporate branding expertise with experience gained serving thousands of personal branding clients, Rosemary developed the most comprehensive, well-validated personal branding program in existence; MIBOSO's 26-Step Authentic Personal Branding System.