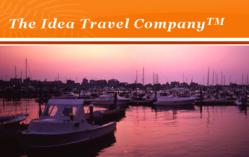 We connect you to a vast array of specials that are easily searchable for last-minute travel
Los Altos Hills, CA (PRWEB) December 06, 2012
The Idea Travel Company, a Bay Area travel agency, is thrilled to announce a new offer for its loyal customers.
"You can earn free travel for groups of certain sizes and to almost any destination for destination weddings and group tours and cruises," Mike Schoendorf of The Idea Travel Company said. "Travelers can contact Idea Travel for more information."
Whether looking to be pampered on a cruise ship or searching for adventure and exploration, The Idea Travel Company can find anyone the perfect excursion to match any desires. Its selection of trips offer everything from fishing and skiing to hiking and horseback riding. Once clients let the travel agency know their ideal travel plans, The Idea Travel Company will help them decide how to make it happen.
"We connect you to a vast array of specials that are easily searchable for last-minute travel. We also custom tailor your travel experience so you will have time to do as much or as little of what you want, and we provide the means for you to spend your entire time away without having to deal with anything other than having fun," Schoendorf said.
The Idea Travel Company provides great opportunities for honeymoon travel, Caribbean travel, Hawaii travel, Sandals vacations and even group business trips. For those looking for customized travel plans, The Idea Travel Company is the best choice. It offers all-inclusive vacation packages to meet a variety of travel needs and desires.
For more information about any of Idea Travel Company's products or services, call 650-948-0207, view the travel agency on the Web at http://www.ideatravel.com or visit 13145 Byrd Lane in Los Altos Hills.
About The Idea Travel Company
The Idea Travel Company is a travel agency in the Bay Area that has been providing tour packages around the world for more than 32 years. It has an extensive knowledge base for just about anywhere in the world and provides access to it to help future clients experience the beauty of traveling and the knowledge of what every country has to offer.