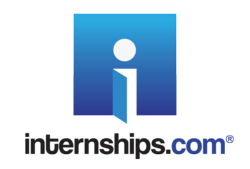 63% of 2012 college graduates have completed at least 1 internship
Los Angeles, CA (PRWEB) December 06, 2012
Despite the challenging economic environment facing student jobseekers, a new internships survey reveals that 69% of companies with 100 or more employees offered full-time jobs to their interns – a positive and powerful reminder of the importance of an internship experience – especially as students prepare for the 2013 summer internships season.
Internships.com, the world's largest internships marketplace, has released new survey results that reveal the most important qualities employers consider when hiring an intern, student attitudes towards internships, data on virtual internships, and trends on the supply & demand of the exploding internships market.
Conducted between December 1st and December 4th, 2012 Internships.com polled more than 7,300 students & recent graduates as well as over 300 human resources and recruitment professionals on their internship activities and intentions.
The survey results show that internships have truly become 'the new interview,' in the job search process for both students and employers – as companies plan to hire significantly more interns in 2013 than they did in 2012:
Highlights:
Supply and Demand in the Internships Market

53% of companies plan to hire more interns in 2013 than they did in 2012
65% of companies received more applications in 2012 compared to 2011
63% of 2012 college graduates have completed at least 1 internship
Who Gets Hired: Employers Value Work Experience over Academic Experience
66% of employers believe interview performance and relevant work experience are the most important factors in their hiring decisions
Relevant work experience is more important to employers than strong academic performance
Employers rank college/university preference as the least important factor when hiring interns
Good News for Recent Graduates: 83% of employers would consider internship applications from recent college graduates.
Internship Experience Overwhelmingly Positive: 85% of employers say hiring interns was a positive experience while 86% of students polled say that their internship was a positive experience.
Virtual Internships on the rise: 33% of employers hire virtual interns – a 20% increase from 2011 to 2012, while 71% of students are open to the idea of completing a virtual internship.
Internships are the new interview: 69% of companies with 100 or more employees made full-time job offers to their interns in 2012.
INFOGRAPHIC: For more information about the 2012 Internships Survey, and to see more results, please visit the Internships.com blog or directly download the infographic.
About Internships.com
Internships.com, part of CareerArc Group, is the world's largest internship marketplace bringing students, employers and higher education together in one centralized location. The innovative, Los Angeles based company, named by Forbes as a Top 10 Careers Website, develops a wide variety of interactive, world-class tools and services to enable every student, employer and educator to better understand and optimize internship opportunities. For additional information about posting 2013 summer internships for free, please visit http://www.internships.com/
Contact:
Yair Riemer
Internships.com
press(at)internships(dot)com
818-260-3134