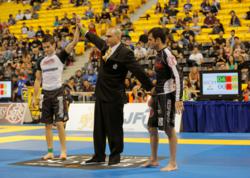 Carrollton, Texas (PRWEB) December 07, 2012
Gameness sponsored athlete and multi-time Brazilian Jiu-Jitsu World Champion Caio Terra won his fifth straight IBJJF No-Gi World Championship November 3rd and 4th in Long Beach California. Not only did Caio secure the championship for the fifth time, he did it in incredible fashion. Submitting his formidable opponent in the final round, Fabio Passos, with a rear naked choke in just 31 seconds.
The win sets Caio alone as the only competitor to win their weight division five straight years in a row. The wins just keep on coming for Caio who earlier this year won the Pan American Championship for the second year in a row, beat a much larger Bruno Bastos for the Absolute Division win at the IBJJF American Nationals, and defeated decorated competitor Jeff Glover at the Metamoris Pro Jiu-Jitsu Invitational in front of thousands of spectators.
Caio has chosen to compete in the Gameness Top Dog fight shorts for his No-Gi tournaments and several Gameness Gis for his Gi tournaments including the Gameness Feather Gi, the Gameness Platinum Gi and the Gameness Pearl Gi.
About Caio Terra
When Caio isn't winning championships (Six World Championships and counting) and adding to his already impressive collection of medals he's teaching Brazilian Jiu-Jitsu to students at the Institute of Martial Arts in San Jose California. Caio is also visiting affiliate schools of his newly formed Caio Terra Brazilian Jiu Jitsu Association. Caio does almost seventy seminars a year at jiu-jitsu schools around the world.
About Gameness
Gameness is the leading manufacturer of jiu-jitsu apparel and equipment including high-performance gi's, fight shorts, rash guards, and clothing. Gameness's commitment to quality and innovation is now extending beyond its jiu-jitsu roots with a full line of MMA gloves, gear, and apparel.