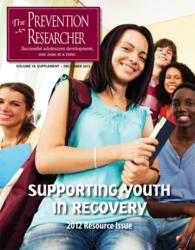 ... the needs of youth in recovery from substance abuse can be extensive, while the supports available to them are often limited ...
Eugene, OR (PRWEB) December 11, 2012
"The needs of youth in recovery from substance abuse can be extensive, while the supports available to them are often limited," says Colette Kimball, M.P.H., associate editor of The Prevention Researcher. "Fortunately, this is starting to change as advocates for these youth are becoming increasingly vocal and active, while at the same time, the research on supporting teens in recovery is starting to build."
The 2012 Resource Issue of The Prevention Researcher focuses on the supports and external resources adults can provide youth within schools, families, and community programs, to help them sustain their recovery work.
Also included in the Resource Issue are reviews of books on helping families of newly recovering addicts and how successes and failures in school relate to adolescent addictions. In addition, the issue contains web resources for supporting youth in recovery and a subject index to articles published in The Prevention Researcher during 2012.
In "Young People in Recovery: Building a Movement," Colette Kimball, M.P.H. interviews three members from a newly formed national group who discuss their experiences with recovery and, in doing so, highlight the needs of many of their peers. The group, Youth People in Recovery, is composed of young people, roughly 17-28 years old, who are in long term recovery. Their goal is to increase awareness among social service providers about the needs of youth in recovery, increase services, and facilitate partnerships which support young people in finding and sustaining recovery.
In "Peer Influence and Recovery," Crystal Collier, M.A., LPC-S and colleagues examine the extent of peer influence and describe the Alternative Peer Group (APG). The APG model provides a number of recovery support services, ranging from 12-step meetings, to psychosocial education for youth and their parents. Its most important component is the use of a positive peer group to promote and support recovery.
With his extensive background in working with youth and families around addiction and recovery issues, Steve Hornberger, M.S.W., answers questions in "Supporting Youth and Their Parents During Recovery." He discusses the role of the family in a teen's recovery process, the role of school personnel, our language and expectations about recovery and relapse, and youth-only 12-step groups.
"Recovery High Schools: Opportunities for Support and Personal Growth for Students in Recovery" by Andrew Finch, Ph.D., and Holly Wegman, M.A. introduces recovery high schools as a supportive environment where students can complete their education while working on maintaining their sobriety. The article reviews the need for these schools; their history, general structure, governance, and key characteristics. It concludes by exploring some of the outcomes and benefits that recovery school students are expected to experience.
The complete issue of The Prevention Researcher on "Supporting Youth in Recovery" is available in a complimentary digital edition at http://www.tpronline.org.
About The Prevention Researcher
Founded in 1994, The Prevention Researcher is published by the non-profit, Integrated Research Services in Eugene, Oregon. The quarterly journal focuses on successful adolescent development and serves professionals who work with young people in a variety of organizational settings.
Each issue of The Prevention Researcher covers a single topic, presenting the latest adolescent behavioral research and findings on significant issues facing today's youth. The journal provides information about programs that create supportive environments for youth, strategies for preventing problems affecting adolescents, and resources that help youth-serving professionals.