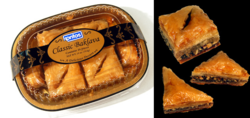 Kontos Foods' line of Mediterranean Fillo and bread products are a great way for retailers to round out their specialty ethnic offerings, while at the same time achieving strong margins
Paterson, NJ (PRWEB) December 07, 2012
Kontos Foods, Inc., (http://www.kontos.com) a manufacturer and distributor of traditional Mediterranean foods, today announced that its range of holiday appetizer and dessert items is available for supermarkets and specialty stores, as well as restaurants and foodservice establishments, across the country. The products – Spanakopita, Baklava and cocktail flatbreads – are perfect for the holidays, Superbowl parties and spring religious (Easter) celebrations.
"Especially during the holidays and other family occasions, consumers are looking for unique specialty items with great taste, a premium feel and strong eye appeal. Kontos Foods' line of Mediterranean Fillo and bread products are a great way for retailers to round out their specialty ethnic offerings, while at the same time achieving strong margins," said Steve Kontos, vice president of Kontos Foods.
The holiday line of retail products can be used for:
Ready-to-Eat Appetizers -- Customers looking for delicious hors d'oeuvres will love Kontos Foods' baked-from-frozen fillo delicacies: Spanakopita, a savory pastry with a blend of spinach, cheeses, and spice filling; and Tyropita, a pastry with a blend of feta and ricotta cheeses and parsley. Both fillo items bake to a warm, golden brown in minutes, offering a delicate crunch and a light, healthy filling (12 oz. packages).
Easy-to-Prepare Appetizers -- For home chefs and party-givers of all skill levels, Kontos Foods' 2-inch Cocktail Flatbread disks offer an elegant base for a variety of delicious hors d'oeuvres. The mini flatbreads are soft and flexible, and extremely versatile. Use in the preparation of "sliders," ideal for bruschetta and great with dips. Trans-fat free and 100% vegetarian (5.2 oz. package).
Desserts -- When heading out to a party or entertaining at home, Kontos Foods' Baklava offers a Baklava, a festive ethnic treat of chopped walnuts and almonds, layered between flaky fillo dough sheets, baked, and then soaked in a sweet honey syrup. For gift-giving, Baklava comes in a gold-label holiday gift pack that will stand apart from conventional cakes and cookies at the next party (11 oz. container).
"Kontos' fillo and bread products are authentic ethnic fare that dress up any holiday table. As products, they offer great eye appeal and taste profile, with significant margins for store owners," said Warren Stoll, Kontos Foods' marketing director.
About Kontos
Founded in 1987, Kontos Foods, Inc. is a Paterson, NJ-based provider of traditional Mediterranean foods for restaurants, hotels, food service, retail specialty stores and supermarkets worldwide. The family-owned company specializes in hand-stretched flatbreads, including the Kontos Pocket-Less Pita™, fillo dough, pastries, olives, gyro meats and Greek yogurts, as well as 40 varieties of multi-ethnic flatbreads. Kontos, which has over 200 employees and was founded by Evripides (Evris) Kontos together with his son Steven, together bring over 100 years' experience in the premium food industry. To learn more, visit http://www.kontos.com, or call (973) 278-2800.
Kontos Contact
Warren Stoll
Kontos Foods Inc.
973.278.2800, ext. 326
WarrenS(at)kontos(dot)com