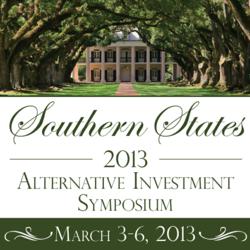 White Sulphur Springs, WV (PRWEB) December 11, 2012
Stuart M Williams, the Co-Founder, President & CEO of the internationally renowned Strategic Research Institute (SRI) has launched the Southern States Business Coalition to bring global investment leaders to the South. The Southern States Alternative Investment Symposium will be held March 3rd – 6th at The Ross Bridge Resort, Birmingham, Alabama.
"The 16 States that make up the southern region of the United States form an incredibly important investment region. The Southern States Business Coalition brings globally recognized investment leaders to the south so that they can gain exposure to the wealth of business opportunities that the south and its companies can offer."
SRI was responsible for building and managing over 1500 business-to-business and investment management conferences on 5 continents including the creation and management of the Alternative Investment RoundUp held in Arizona each February. From 1997 through 2008 that conference alone attracted:

More than 15,000 Alternative Investment Professionals
Trillions of dollars in investible assets
3,000 Institutional Investors and Plan Sponsors
The advisory board for the conference reflects the quality of the program and the audience at large. The advisory board includes:
Chair: Ms. Shelley I. Smith, President & General Counsel GrayShell Consulting; Member, Pacific Pension Institute's Board of Directors; Member, Governing Board of The Robert Toigo Foundation; Former Trustee, LACERS; Former Board Member Council of Institutional Investors
Ms. Gail Stone, Executive Director, Arkansas Public Employees Retirement System (APERS)
Mr. Joseph B. Borg, Director, Alabama Securities Commission
Ms. Leslie Spencer, Trustee, Dallas Employees Retirement Fund (DERF)
Mr. Edwin T. Burton, III, Trustee, Commonwealth of Virginia Retirement Systems (VRS); Member, Board of Directors Chase Investment Counsel Corporation; Professor of Economics, University of Virginia
Mr. Mark Yusko, Founder, CEO & CIO Morgan Creek Capital Management
Mr. Robert Aguallo, Assistant Executive Officer, Investment Operations, (Retired) California Public Employees Retirement System CalPERS
Mr. Herb Meiberger, Trustee, San Francisco City & County Employee Retirement System
Ms. Elizabeth Greenwood, Trustee, Los Angeles City Employees Retirement System (LACERS)
Mr. Paul Yett, Managing Director, Hamilton Lane