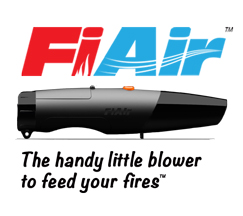 The debate is that gas is faster but charcoal grilling is tastier. What if you can have both speed AND deliciousness? That's what FiAir brings to the tailgate party — a point & shoot blower that speeds charcoal to cooking temperature.
Pittsburgh, Pennsylvania (PRWEB) December 07, 2012
As of November, 2012, FIAir LLC is an official marketing partner of Tailgater Monthly Magazine (TGM), a publication, website and media platform created for and by tailgaters. Tailgating, named for the practice of partying around the open tailgate of a vehicle, is associated with pre-game festivities — especially grilling meat and drinking beer — typically in football stadium and NASCAR speedway parking lots. Official partner status with TGM enables the company to introduce tailgaters to FiAir, a new portable, hand-held, battery-powered blower that rapidly kindles charcoal and wood fires.
America's fastest growing sport
According to industry estimates, about 240 million men and women nationwide, most in the 25-44 age bracket, tailgate at least five times each season. TGM Publisher Randy Dye says that in partnering with his publication "FIAir directly reaches the people who have made tailgating America's fastest growing 'sport'. Tailgaters are buyers within a most desirable consumer demographic and love new gadgets and gear. With official partner status, FiAir will be able to put its product in front of that audience through multiple channels, including print, online, e-media, at-event activities as well as sweepstakes and contests."
The pre-game game-changer
Company founder Alan i Harris believes that TGM exposure will help FiAir become the "game-changer" in the age-old dispute over whether charcoal or gas grilling is the better choice in the pregame parking lot. "The debate is that grilling with gas is faster but grilling with charcoal is tastier. What if you could have both speed AND deliciousness? That's what FiAir brings to the tailgate party — a point & shoot blower that speeds charcoal to cooking temperature in about 8-12 minutes, no matter how you light your coals."
Although charcoal is already the fuel of choice among tailgaters, Harris expects its lead over gas to widen in 2013 as grillers "armed with FIAir" discover how quickly they can get coals to cooking temperature.
Gaining absolute power over wood and charcoal fires
In addition to tailgaters, the company's market includes backyard grill chefs, BBQ teams, campers and other outdoor enthusiasts as well as wood stove, fireplace and fire pit users. At just 8.75" inches in length and weighing under 4 oz., FiAir is the only battery-powered blower on the grill and fireplace accessories market that is truly portable and equally appropriate for indoor and outdoor use. FiAir also contrasts with competitive blowers in its use of a battery-powered motor to create continuous airflow as opposed to products that require users to blow into a tube, crank by hand or plug into an electric power source
Made in America for keepers of the flame everywhere
FiAir LLC has committed to manufacturing its new fire tool in America and has launched an online campaign to help defray the higher costs of making FiAir tooling with U.S. grade steel and engineering. The company has selected Dana Molded Products (DMP) to manufacture and handle order fulfillment for FiAir. DMP estimates that the FiAir project will create or sustain 21 jobs at its plant in Carpentersville, Illinois.
The company is now accepting online orders for FiAir on its campaign site for shipping in Spring 2013.
About FiAir LLC
FiAir LLC is the developer and sole provider of FiAir™, a portable, battery-powered blower that feeds and speeds charcoal and wood fires at the grill, tailgate party, wood stove, fireplace or campsite. Its lightweight, compact design and battery-powered motor make FiAir the first truly portable, indoor-outdoor blower on the grill and fireplace accessories market. For more information about FiAir, please visit http://www.fiair.net To view or contribute to the company's campaign to make FiAir in America, please visit http://www.indiegogo.com/fiair.
FiAir LLC is based in Pittsburgh, Pennsylvania.