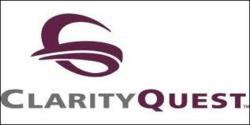 It feels great to be in a position to help those in need realize their dreams of becoming business owners.
Ann Arbor, MI (PRWEB) December 06, 2012
Clarity Quest Marketing recently made its 50th microloan through Kiva, a non-profit organization that connects microfinance lenders with aspiring business owners and entrepreneurs around the world. Clarity Quest, a technology and healthcare marketing agency, has been working with Kiva to provide microloans for over five years.
"When I started Clarity Quest in 2001, I came to appreciate the capital challenges with establishing and funding a new business," said Christine Slocumb, president of Clarity Quest Marketing. "It feels great to be in a position to help those in need realize their dreams of becoming business owners. Donating through Kiva is very simple and is a highly rewarding experience."
Lenders can easily track exactly where their donations end up. Kiva provides biographies, pictures and videos of each borrower so lenders can feel connected to the borrowers and receive updates on exactly how the money is allocated to the borrower's business.
From farmers in Cambodia to a restaurant in Uganda to a retail store in Bolivia, Clarity Quest's loans have spanned the globe to reach 50 businesses and entrepreneurs over four continents. Starting in 2009, Kiva made microloans available to borrowers in the United States. Since then, Clarity Quest has made several loans to support US-based businesses, including those in the automobile services, transportation and retail industries.
"Microloaning within the US is a great way to boost our economy through the creation of small businesses," said Slocumb. "We plan to continue loaning through Kiva and look forward to helping entrepreneurs in the US and throughout the world."
To view Clarity Quest's lending profile, or to learn more about loaning through Kiva, please visit http://www.kiva.org/lender/clarityquest.
About Clarity Quest
Clarity Quest Marketing combines technology know-how with marketing and business acumen to provide marketing services to technology and healthcare companies across the US. Founded in 2001, Clarity Quest services companies in the biotechnology, software, hardware and technical professional services industries. The agency's core areas are online marketing, website design and outsource marketing. Clarity Quest is headquartered in Ann Arbor, Michigan with satellite offices in Seattle and SE Connecticut. http://www.clarityqst.com.