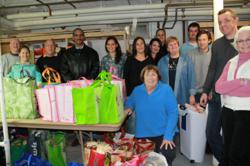 Newport, RI (PRWEB) December 06, 2012
The employees at Embrace Home Loans in Newport, RI have a long standing tradition of providing Thanksgiving meals to their neighbors in need. They created twenty-five (25) "Thanksgiving Baskets", including grocery items to make a complete Thanksgiving meal with all of the trimmings, a gift cards for local grocery stores, items to feed the families beyond the Thanksgiving holiday, and health and beauty items like diapers, shampoo, toothpaste. Some baskets included personal touches like table decorations, Thanksgiving napkins and plates. The baskets were delivered to local families through the St. Vincent de Paul Society of St. Joseph's Parish in Newport. Celeste Lalli, a member of the St. Vincent de Paul Society and coordinator of the drive said "It is truly heartwarming to see how much care goes into putting these baskets together. These families have been blessed by this support from the folks at Embrace home Loans." This is the third year Embrace Home Loans has donated to the St. Vincent de Paul Society.
"One of the many values the 600+ employees of Embrace have witnessed from our founder, Dennis Hardiman, is to operate a company as a family that cares and to be generous toward our neighbor. With Thanksgiving always falling on or around Mr. Hardiman's birthday, the employees have long presented this community-outreach as our gift to him. It's always moving to me to see how much care each department/office puts into their "baskets," said Kurt Noyce, President.
Embrace Home Loans employee generosity was not limited to the Newport area this holiday. The employees in their Maitland, Florida branch donated food, personal items and gift cards to the Safehouse of Seminole County, a shelter for victims of domestic violence and their children. The employees at the Rockville Maryland branch pooled their funds to help Stepping Stones, a shelter providing support for homeless families with children.
ABOUT EMBRACE HOME LOANS®: Embrace Home Loans has been helping homeowners with their mortgage financing needs for over 29 years. Embrace, headquartered in Newport, RI, operates nationwide and helps tens of thousands of customers every year. Embrace is a direct lender for Fannie Mae and Freddie Mac, approved by FHA and VA, and is an issuer for Ginnie Mae. Embrace is a member of the Mortgage Bankers Association, is an Equal Housing Lender, and is an accredited member of the Better Business Bureau. To learn more about Embrace Home Loans, visit http://www.embracehomeloans.com