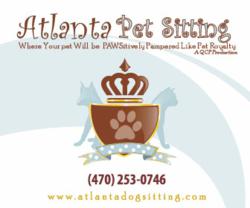 2000 happy clients must mean we are doing something right.
Atlanta, GA (PRWEB) December 07, 2012
With close to 2000 clients in Raleigh and Charlotte, NC, we decided to launch into Atlanta. We treat your pets and our clients with royalty. Our petsitters are all screened and have background checks. Your safety and your pets wellbeing is our number one concern. Atlanta Pet Sitters now have a chance to do what they love for a company that pays dog sitters more than any other company out there.
Featured in many business journals QCP Productions brings you Atlanta Dog Sitting
Charlotte's very own Stacey Marrs is the founder and owner of Queen City PetSitting. She has had a very successful run in Charlotte, and Raleigh, and wants to have Pet-Owners in every city experience what she and her many qualified pet-sitters can offer.
For more information please visit http://www.atlantadogsitting.com for your petsitting and various errand needs.