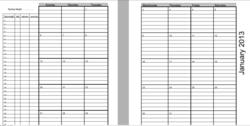 On the factory floor implementation of a simple chart often results in immediate improvement as the operator assumes responsibility and takes quick action before things get out of control. A weight loss calendar will also result in immediate improvement
(PRWEB) December 07, 2012
Mike Keenan, The Ideal Weight Engineer, has announced the release of his new Book, "2013 Ideal Weight Calendar Journal and Planner: with a Calorie Cash(TM) Calorie Chart", which is a weight loss calendar and weight loss journal combined. As part of his promotional efforts he is also giving away his last book, "Easy Weight Loss Journal with Calorie Cash(TM): The Easy to Use Calorie Chart and Weight Loss Journal," when you buy his new book.
Thirty years ago quality control was thought of as an activity restricted to factories. Fifteen years ago the service industries started using quality control charts with a vengeance. Now those techniques and charts are being used on a personal level to control the process of losing weight. Do not worry simplicity is the key. Using a weight loss journal or weight loss calendar is no more difficult than using a planner or calendar.
Mike Keenan, a quality engineer says that "On the factory floor implementation of a simple chart often results in immediate improvement as the operator assumes responsibility and takes quick action before things get out of control. If taken seriously a weight loss calendar will also result in immediate improvement. If improvement in weight does not occur, an explanation is required in the journal with an action plan for ways to improve." Many studies including The Kaiser Permanente Center for Health Research, and a paper published in the Journal of the Academy of Nutrition and Dietetics say that regular monitoring is the key to weight loss and weight maintenance. In industry where control charts are used there is a maxim that says: "You can't manage what you don't measure." In weight loss and weight management this would be: "You can't manage your weight if you do not measure your weight." The calendar/journal designed by Mr. Keenan is made to be similar to the charts used by factory workers who do not have time to write several pages in a journal. There are four simple slots to be filled out every day. Two of these can be a simple yes or no answer. The other key is that this weight loss planner is also where you plan for the rest of your life: you know things like birthdays and dentist appointments. After all a factory worker's clipboard also contains forms for inventory, amount produced, and various standards and procedures.
Calorie Cash™ is another engineering innovation. It is nothing more than thinking of a calorie as 1 cent and then rounding off to the nearest quarter. The advantage of using calorie cash™ is that by rounding to the nearest 25 calories one learns to more accurately approximate the number of calories consumed and by thinking in terms of money one can more easily remember when the calories (cash) run out. Yet another advantage is easier food choices because foods can be grouped into equal calorie groups. For example, which foods have 0 calories, 25 calories, 50 calories, 75 calories, or 100 calorie? It is no longer necessary to grab prepackaged 100 calorie snack bags that make it easier to count your calories, and so a person is more likely to make healthier choices of fruits and vegetables. Rounding off calories makes the calorie journal easier.
For more information on how to combine a calendar with a weight loss journal go to Mike Keenan's website about charts for ideal weight.
Contact: Mike Keenan For Immediate Release
Tel. (229) 439-4772 (I would love to hear from you but please leave a name and number please.)
Website: Ideal-Weight-Charts.com