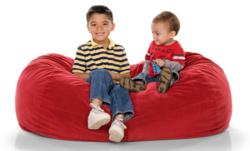 Camas, WA (PRWEB) December 11, 2012
Bean Bag Chair Pros is pleased to announce the launch of their all-new product line for children just in time for the holiday season to complement their full line of adult sized bean bag chairs. Children love to nestle into a child sized bean bag to watch television, play their favorite video gain, read a book, or even to do homework and bean bag chairs are an ideal gift for children on a gift-giving list.
Bean Bag Chair Pros offer a variety of styles and sizes to delight children of all ages. Football, soccer, basketball and baseball fans can curl up in a football styled beanbag to watch the big game with their family. The baseball styled kid bean bag chair features a chair styled in the shape of a globe with a baseball ottoman.
It is not just the sports loving children that will love the bean bags from Bean Bag Chair Pros, there is a comprehensive assortment of monsters, critters and Disney character beanbags are also available. Fairies, princesses and flower shaped chairs are ideal for the most discriminating and hard to shop for girls on a holiday list. These specially designed and sized bean bags are perfect for kids rooms, game rooms and media rooms. Most of the bean bag chairs for children through Bean Bag Chair Pros are easily cleaned and stain-resistant for those accidental spills and mishaps.
Bean Bag Chair Pros' easy to navigate website is provides consumers a one stop shop for beanbag chairs for individuals of all ages. Bean bag chairs were once all the rage and their comeback today is because of their versatility, comfort and style. For the adults on a gift giving list, there are a variety of shapes, styles and sizes available to fit any décor.
All of the beanbag chairs and beanbag sofas offered by Bean Bag Chair Pros are tough, stain resistant and easily cleaned. Nothing is quite as comfortable and snuggly as a beanbag chair; it is easy to nestle in and get comfortable while your back, legs and neck are properly supported. Dogs and cats love beanbag chairs and many of the products at http://www.beanbagchairpros.com have removable and machine-washable covers for easy cleanup and stain removal.
About BeanBagChair Pros
Bean Bag Chair Pros offers the finest bean bag chairs available on the market today. Their extensive selection includes solutions for children through adults. Operated by Pro Home Stores, an online retailer of fine home goods and décor items, shipping is always free and there is never a sales tax. To view available bean bag chairs and sofas available, visit http://www.beanbagchairpros.com.