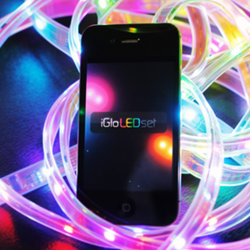 "If you want to connect electronics to your iPhone or Surface tablet we're your go to.
New York, NY (PRWEB) December 09, 2012
MEA Mobile today announced funding for the next generation of its breakthrough WiFi controller will be crowd sourced through Kickstarter. The goal is to enable easy hardware connection to mobile platforms. The full project specs can be viewed at: http://kck.st/VeCPlL
iGloLED controller will compete with products such as the popular open source Arduino kit. "We're the solution for a packaged control platform which works with mobile devices." add Seymour, "If you want to connect electronics to your iPhone or Surface tablet we're your go to." The goal of the iGloLED project on Kickstarter is to make it easy for developers to hack. The platform uses a simple http command interface so people can access the hardware through a web browser such as Safari or programmatically languages such as Java, JavaScript and Objective C. The kit which will include an SDK to simplify use with third party development environments such as Eclipse, Visual Studio or Xcode. Other products in this space include the Linux powered Gumstix and the Raspberry Pi, an ARM based single board computer developed in the UK.

iGloLED is Funding a 12 Volt Controller on Kickstarter http://kck.st/VeCPlL
The WiFi Based Controller Will Have an SDK with Example Code
A New 12v Dev Kit is $99 Compared to $299 for Current Range Product
The Kickstarter project features funding options for Windows, Android, iPhone & Blackberry development libraries. "We're hoping all options are funded," says Bruce Seymour, Managing Director of MEA Mobile. "We'll develop for where the market tells us to. We've recently put up a malbolge option, if it's funded, we'll do it."
Tweet This: $99 Dev Kit for #iGloLEDset positions the robots to rebel. http://kck.st/VeCPlL
"iGloLED will accelerate development in the machine to machine space," says Seymour, "Science fiction is now in your palm." Future applications for the controller include a broad range of low voltage gadgets from electronic cars, UAV's, aquarium products, marine solutions and more. "In the future our controller will be able to be used with next generation products such as the shatterproof, plastic bulbs recently developed at Wake Forest University."
Additional information is available at: http://www.meamobile.com/igloledset-12v
About MEA Mobile
The company makes apps and is best known for advanced video processing algorithms as showcased in iSupr8, iLapse, Part & Cinebleach. The company offers contract development services for iOS, Android and Windows 8 in addition to backend development, and mobile web. The company is actively expanding with offices in Auckland and Hamilton, New Zealand and New Haven, Connecticut.