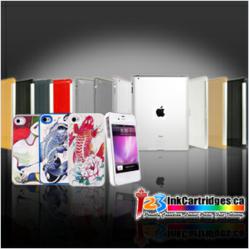 Lachine, QC (PRWEB) December 06, 2012
One of the most popular online resources for printer and computer related products and accessories just expanded their ever growing line of products. This expansion includes accessories for some of the most popular names in cell phones. Consumers can be assured that these latest additions are of the same high quality standard that they are used to seeing in the products offered by the number one provider 123inkcartridges.ca. The company has always had the customer's needs in mind and these additions are an attempt to meet the growing needs of consumers.
Included in the latest additions by 123inkcartridges.ca are the fashionable Moshi accessories such as stylish covers, earphones, Moshi iPad covers and various cables. For customers who desire some serious protection for their devices, the company offers a full line of Otterbox cases and covers. Some of the Griffin items that are included in this most recent expansion includes their top of the line Survivor cases for cell phones, cords, cables, stands and a broad line of accessories. 123inkcartriges.ca also added a full line of iSkin products. Their stylish phone covers for iPhones are unmatched and the company also provided several fashionable stereo headsets in the line of products made available to consumers.
Consumers can view all of the latest additions to the growing product line on the company's official site: http://www.123inkcartridges.ca. Consumers can visit frequently to see updated product lists which include many accessories that are needed for various electronic devices. The company stands by its promise to provide only high quality products to consumers and at the same time keep the prices reasonable
About 123inkcartridges.ca
This Canadian based company operates an online supply resource for those needing accessories for a wide variety of electronic and computerized devices. They have a full inventory which provides them the opportunity to fulfill orders in a timely fashion. Printer and computer related products are shipped to locations across the US and Canada. Since the company began they have continued to grow and are presently one of the number one online resources for printer ink cartridges 123inkcartridges.ca has a wide variety of products which can be viewed on their official site: http://www.123inkcartridges.ca