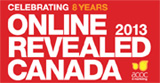 (PRWEB) December 06, 2012
With an expected attendance of over 400 Canadian tourism marketing professionals from across North America, Online Revealed Canada has become the must attend event for marketers of tourism and travel including; destinations, hotels, attractions, agencies and other travel industry suppliers, with industry experts from major tourism brands speaking to the latest in digital marketing trends for tourism.
Held for the past two years in Toronto, Ontario in association with the Hotel Association of Canada Conference, Online Revealed will take its 8th inception back on the road in 2013 to Caesars Hotel and Casino in Windsor Ontario, where travel industry stakeholders from across the country will gather to hear the latest in digital marketing, social media marketing, mobile and consumer trends for marketing tourism online with an exciting agenda including:

Welcome reception presented by Online Revealed 2013 host city Tourism Windsor Essex Pelee Island;
Opening Keynote presentation by Hari Nair, Vice President of Market Management North America Expedia- Discussing Canadian Travel Trends;
Closing keynote presentation from Mitch Joel, one of North America's leading digital visionaries and author of the new book; CTRL ALT DEL – Reboot Your Business (and Yourself) in a Connected World;
The 4th annual Canadian e-Tourism Awards – hosted by Michele McKenzie, President and CEO of the Canadian Tourism Commission celebrating excellence in digital marketing for tourism in Canada. Nominations are now open and winners will be announced at this digital marketing conference;
Results from the 2nd annual Canadian Benchmarking Study for Destinations (DMO's) benchmarking destinations against Canadian peers, and against International travel destinations New Zealand and the USA. Google Head of Travel David Pavelko will join Paul Nursery, Vice-President, Strategy & Corporate Communications for the Canadian Tourism Commission, in a panel presentation reviewing the results and key findings;
Tony Pollard, President of the Hotel Association of Canada in conversation with Destination Marketing Organization International, Canadian Tourism Commission, Fairmont Raffles Hotels International, and TripAdvisor about whether hotel brands drive traffic to destinations;
Digital marketing workshops presented by Google, Facebook, TravelClick, TripAdvisor, A Couple of Chicks™eMarketing, MILES and more;
Online travel marketing and social media marketing case studies presented by the Ottawa Senators and Charlottesville Albemarle Convention & Visitors Bureau.
Online Revealed Conference Sponsors to date include; Expedia - VIA Rail - Porter Airlines - Travelodge Canada – RateTiger – Google - Tourism Windsor Essex Pelee Island - Miles – TravelClick - Travel Alberta - Travel Manitoba - Tourism British Columbia - New Brunswick Tourism - Newfoundland Tourism - Nova Scotia Tourism - Ontario Tourism Marketing - Prince Edward Island Tourism - Tourism Saskatchewan - Yukon Tourism – Hotelier Magazine.
Online Revealed Canada, known for its innovation and hands-on learning approach to marketing tourism online, is a must-attend conference for tourism professionals including; Destination Marketing Organizations, Hotel Brands & Management Companies, Tourism Associations, Travel Management Companies, Search Engines, Technology Companies, Tourism Marketing experts, and those who are responsible for leading digital, social and mobile marketing campaigns for travel.
Early bird registration is now open, and additional hotel room blocks have been added to support the popular industry event. Sponsorship and Exhibitor packages are still available by contacting Patricia Brusha. Visit http://www.onlinerevealed.com for more information or conference registration.
About Online Revealed:
The Online Revealed tourism marketing conference provides travel and tourism professionals with unique and innovative online marketing education, with an agenda that includes educational workshops, keynotes and panel discussions, all driven by the industry, for the industry. The event, which has been produced in 7 cities across Canada since it's inception in 2006, is produced by leading online marketing firm, A Couple of Chicks™ eMarketing, http://www.acoupleofchicks.com. Online Revealed Canada is supported by industry partners from Google, Facebook, TripAdvisor, Expedia, the Canadian Tourism Commission and the over 400 annual attendees from across Canada who attend each year.