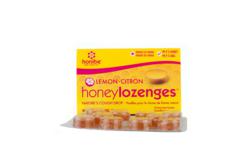 This partnership will allow us to tap into the growing French Canadian market alongside a well known household brand
Charlottetown, PE, Canada (PRWEB) December 06, 2012
Island Abbey Foods Ltd.™ a PEI based natural health product and specialty food producer, has announced a collaboration deal with Jean Coutu. This deal will showcase the Honibe® Honey Lozenges™ in over 280 Jean Coutu stores located in Quebec and New Brunswick.
Honibe Honey Lozenges contain 99.99% pure honey, with a small amount of naturally derived menthol and eucalyptus and no artificial ingredients. Honibe will be featuring both flavors of their Honey Lozenges in Jean Coutu Stores: Honey Lozenges with menthol and eucalyptus and Honey Lozenges with lemon, menthol and eucalyptus. Honibe Honey Lozenges are for the temporary relief of sore throat and nasal congestion with only 10 calories per piece (2.6 g) and are available in blister packages of 10 lozenges. Honey Lozenges are conveniently sized for easy transport in pockets, cars, briefcases or purses for increased consumer enjoyment.
"Being a Canadian company, it thrills us to be partnering with an organization boasting a respectable 42 year track record serving households of French Canadians in the Quebec and New Brunswick market", stated John Rowe, President of Island Abbey Foods Ltd., "This partnership will allow us to tap into the growing French Canadian market alongside a well known household brand, bringing our Honey Lozenges to more than 280 stores in the Quebec and New Brunswick area."
Island Abbey Foods flagship brand Honibe has seen huge growth and recognition in the last few years. The Honibe Honey Drop achieved the most prestigious food award in the world at SIAL Paris 2010, the Global SIAL d'Or (Gold Medal).Which recognized the Honibe Honey Drop as "The Best New Food Product in the World". Using the same proprietary technology as the award winning Honey Drop, the Honibe product line has since expanded to include Honey Delights candies, Honey Sprinkles for cooking and baking, and Honey Lozenges for coughs and colds. Honibe was subsequently honoured with the "Canada Brand Business Award" at SIAL (Toronto) in 2011. Honibe was also featured on one of Canada's most popular television shows, CBC's Dragons' Den, where entrepreneurs pitch their ideas to savvy business investors. The Dragons smelled money in the honey pot as Honibe was offered one of the largest deals in the shows history. In August 2012, the Canadian Space Agency selected the Honibe Honey Drop as one of its 'Snacks For Space' and the Honey Drop will be going to the International Space Station with Canadian Commander Chris Hadfield's December 2012 mission. Most recently, Island Abbey Foods was given the honour of being named one of Progress Magazines Fastest Growing Companies in 2012.
About Island Abbey Foods Ltd.
Island Abbey Foods Ltd. is a natural health product and specialty food producer based in Prince Edward Island (PEI), Canada. We are a 6th generation PEI agricultural family business with our feet firmly planted in our Island's bright red soil (ideal for farming with its high iron and nutrient content). Honibe (hon-ee-bee) brand honey is our line of all natural, specialty honey products from PEI. Under our Honibe brand we offer innovative products like the Honey Drop, the world's first 100% pure, no mess, non-sticky solid honey: Honey To Go! We also have Honey Delights honey candies, Honey Sprinkles granulated honey and Honey Lozenges with added menthol and eucalyptus for sore throat and nasal congestion relief.
For more information please visit us on the web at http://www.honibe.com or http://www.islandabbeyfoods.com.
About Jean Coutu
Since the first Jean Coutu Pharmacy opened in 1969, The Jean Coutu Group has constantly innovated, adapted itself and moved forward to meet the needs and expectations of consumers. After all, their business is all about people. The company's goal is to offer customers all the advantages of a large drugstore chain while still retaining the personalized service offered by a local pharmacist. They have constantly strived to instill the espoused values of service, excellence and responsibility across their network. These core values have served The Jean Coutu Group well over the past 42 years.
For more information on Jean Coutu please visit them at http://www.jeancoutu.com.