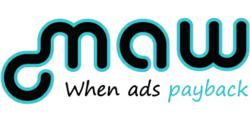 Consumers participate voluntarily and remain in complete control of their information, while guaranteed that their contact information is completely private
Clearwater, FL (PRWEB) December 10, 2012
MobAdWin, the only app that pays customers to read advertisements, recently launched in Tampa Bay. MobAdWin's "MAW" (Mobile Advertisement Win-Win) caters to both subscribers and advertisers, and is being offered exclusively to iOS and Android users.
According to CBS news, the average person sees as many as 5,000 ads per day (1). With this many advertisements, businesses are unaware of what effect their advertisement may have made, lacking any result or feedback.
Jay Walker-Smith, President of marketing firm Yankelovich, a company which specializes in marketing research, stated, "We want advertising, and we like advertising. Consumers don't hate advertising. What they hate is bad advertising. So I think the challenge that's facing the industry nowadays is how to quit doing all the bad stuff that creates the kind of environment people are resisting, and figure out ways to engage people in ways that they find to be informative and entertaining. And that's become our challenge in this supersaturated world. (1)"
MAW solves that exact problem with their new way of mobile marketing. They offer a financially beneficial solution for both consumers and advertisers.
MAW for Businesses:
● Business owners select their target audience by demographic, geographic, interests, and other factors. The business owner then decides on a budget, which is generally $1 per person reached.
● The budget is only spent when the target has been reached and feedback has been provided or promo/special has been purchased.
MAW for Consumers:
● Smartphone users download the free app and voluntarily fill in a profile, which has guaranteed privacy and confidentiality.
● Users receive discounts, specials and goodies (perks offered by the advertisers).
● Cash rewards for providing feedback.
MAW, unlike other internet marketing companies, does not take a cut on the promos/coupons/goodies offered by the businesses which choose to advertise through the app. There is no screening of internet traffic and no installation of cookies, nor are there any other means to build leads. Consumers participate voluntarily and remain in complete control of their information, while guaranteed that their contact information is completely private. On the business owners' side, the smartphone users are just anonymous users with parameters.
MAW is the new efficient and respectful way to advertise—where both consumers and advertisers benefit equally. Although Tampa Bay is the launchpad, MAW plans to expand its services nationwide.
For more information, visit http://www.mobadwin.com.
About MobAdWin:
MobAdWin(MAW) was established by Alexandre Dammous, a licensed attorney in the European Union, certified Mediator in the US, and international law consultant, who completed a masters in international law from Stetson and his JD from a Université de Liège, and Renaud Migeot, a former senior executive banker with a specialization in securities. Together, these two experienced businessman realized that advertising wasn't working the way they knew it should be. MobAdWin is the first and only Win-Win marketing platform, and is innovative in the mobile marketing world. The users and advertisers interact, with almost all costs shared with the customers. The users earn cash and perks (discounts, special offers, gifts) and decide when and how they receive the ads via smartphone. The advertisers truly interact with the customer base. Currently, MAW is available as a free download on both iOS and Android.
(1) Johnson, Caitlin A. February 11, 2009. CBSNews.com. "Cutting Through Advertising Clutter." http://www.cbsnews.com/8301-3445_162-2015684.html