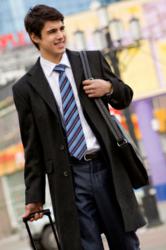 It is important to practice healthy behaviors during the trip and after return home.
San Francisco, CA (PRWEB) December 09, 2012
More and more Americans are traveling internationally during this holiday season — for vacation, business, and volunteerism, and to visit friends and family. Whatever reason for traveling, the information on this page will help to be Proactive, Prepared, and Protected when it comes to health—and the health of others—while traveling.
I Fly First Class recommends to all travelers the following new tips:
Be Proactive
Take steps to anticipate any issues that could arise during the trip. The information in this section will help you plan for a safe and healthy trip.
Learn about future destination.
See a doctor before travel.
Think about health status.
Any special health needs? (Babies and small children, pregnant women, people with disabilities, people with weakened immune systems)
Be Prepared
No one wants to think about getting sick or hurt during a trip, but sometimes these things happen. Travelers may not be able to prevent every illness or injury, but they can plan ahead to be able to deal with them.
Pack smart.
Plan ahead for illnesses or injuries during the trip.
Know what to do if you become sick or injured on the trip.
Know and share important information about the trip.
Be Protected
It is important to practice healthy behaviors during the trip and after returning home. This section outlines how travelers can be protected from illness during the trip.
Pay attention to your health during the trip.
Use sunscreen and insect repellent as directed.
Be careful about food and water.
Try not to take risks with health and safety.
Limit alcohol intake, and do not drink alcohol and drive.
Wear a seat belt.
Wear protective gear when doing adventure activities.
Respect host country and its people by following local laws and customs.
Pay attention to your health when you come home.
Your dream vacation is just seconds away with affordable first class and business class airline tickets from I Fly First Class. Our growth continues because it is rooted in quality service, a good reputation, and routinely exceeds customer expectations. Earning the trust of our customers with a commitment to excellence, places I Fly First Class at the forefront of this competitive industry.
Julia Graft PR Manager