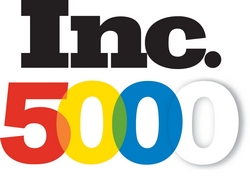 We attribute the success of our organization to the people who work here; without Hireology, we wouldn't have been able to create such a great team
Chicago, IL (PRWEB) December 06, 2012
Hireology proudly announced that several Inc. 5000™ companies, including Coyote Logistics, US Appraisal Group, Datto Backup and Direct Agents have selected Hireology's web-based platform to streamline their hiring and selection process and make better hiring choices.
Each year, Inc. magazine releases their Inc. 5000™ list, a list of 5,000 fastest-growing companies in the United States. Each company is ranked according to their revenue growth over a four-year period. Additionally, the companies must be based in the United States and be privately held.
"It is a huge honor to be recognized by Inc. as one of the 5000 fastest-growing companies in the United States," explained Hireology CEO Adam Robinson. "We are grateful for the opportunity to help many of these companies build amazing teams that will ensure their continued success."
Coyote Logistics, US Appraisal Group, Datto Backup, and Direct Agents are among the Inc 5000™ companies that have implemented Hireology's Selection Manager™ to assist in making the best hiring decisions through the use of applicant management, job profiling, skills testing, behavioral interviews and verification services.
Working with Hireology since 2010, US Appraisal Group has seen great hiring through the use DiSC assessments, interview guides and verification services.
Dione Spiteri, president of US Appraisal Group, explains, "We attribute the success of our organization to the people who work here; without Hireology, we wouldn't have been able to create such a great team."
Chicago-based Coyote Logistics recently made the decision to use Hireology's Selection Manager™. After seeing the difference Hireology's candidate scoring guides could make in their selection results, Coyote realized that adding Hireology would be a big improvement to their interview process. In addition, they have found great success using verification services like criminal background checks through Hireology.
"Hireology's interview guides and verification services are a great tool for our hiring process," said Colleen Brenner, recruiting manager at Coyote Logistics.
Datto, a data backup and recovery solutions company located in Norwalk Connecticut, has implemented Hireology's platform to add great talent to their growing team. They have found the interview guides to be of great assistance when determining which candidate is right for them.
"We are excited to apply Hireology's interview guides and hiring tools to our selection process," said Nicole Kenega, Human Resources Executive for Datto. "Its solution enables us to deploy a company-wide selection platform that adds instant value."
About Hireology
Hireology's award-winning Selection Management System helps companies organize their hiring process and leverage data to make better hiring decisions. Franchise systems, banks and financial institutions, healthcare systems, dealer networks, and other multi-site operators use Hireology's web-based Selection Manager™ to deliver consistent and repeatable hiring decisions in the field - leading to better hiring decisions, lower turnover, and increased profitability per location. For more information, please visit http://www.Hireology.com.