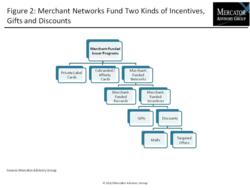 The amount of venture capital that merchant-funded program vendors are raising suggests that investors are confident in the future of card-linked offers.
Boston, MA (PRWEB) December 12, 2012
The recession has turned many consumers into value-conscious shoppers, and merchants are seeking ways to exploit this mentality to attract new and retain existing customers. At the same time, issuers have an urgent need to create new revenue streams to compensate for declining balances on credit portfolios and reduced interchange revenue on debit portfolios. The combination of these forces is creating an enormous opportunity for merchant-funded network vendors, which have developed technology that can bring issuers, merchants, and consumers together in a way that benefits all stakeholders.
Mercator Advisory Group's newest report, Merchant-Funded Networks: Bolstering Credit Card Rewards, describes how U.S. credit issuers are implementing merchant-funded programs alongside proprietary reward schemes, and presents several ways for issuers to think about the value these programs provide.
Michael Misasi, analyst at Mercator Advisory Group and author of the report comments, "The amount of venture capital that merchant-funded program vendors are raising suggests that investors are confident in the future of card-linked offers. Mercator's analysis confirms that there are several reasons to be hopeful but also identifies areas where significant progress is required for the market to realize its multibillion-dollar potential."
Highlights of the report include:

An overview of the merchant-funded value chain, including major stakeholders, reward types, and the economic framework
Consumer spending volume and issuer revenue estimates for the two major segments of the merchant-funded incentives, including projections through 2015
An analysis of the strategies that credit issuers are using to integrate merchant-funded rewards with proprietary reward programs
A discussion of the major issues that could accelerate or hurt the demand for merchant-funded offers
Profiles of several leading vendors specializing in merchant-funded discount programs
This report is 36 pages long and contains 20 exhibits.
Companies mentioned in this report: Affinion Group, Affinity Solutions, Aimia, Alliance Data, American Express, Apollo Management, Bain Capital Ventures, Baird Venture Partners, Bank of America, Bankons, Bessemer Ventures, Billeo, Canaan Partners, Capital One, Cardlytics, Cartera Commerce, Cbsi Loyalty Solutions, Chestnut Hill Ventures, Citi Ventures, Clairmail, Clayton Associates, Common Angels, Comvest Group, DACE Ventures, Discover, Edo Interactive, FCA Venture Partners, First Avenue Partners, First Data, FIS, Fiserv, Flybridge Capital Partners, FreeMonee, GCG Angels, General Atlantic Partners, GLIDE Innovation Fund, Groupon, Harvest Partners, Intuit, IRC Holdings, Jack Henry, Jumpstart Inc., Jwaala, Kepha Partners, Kinetic Ventures, LBO Enterprises, Linkable Networks, MasterCard, NetSpend, Opus Capital Ventures, ORCC, PayPal, Pinnacle Partners, Polaris Ventures, Red Point Ventures, Regions Bank, Rewards Now, Segmint, Sutter Hill Ventures, Total Technology Ventures, Trinity Ventures, Truaxis, TSYS, UFG Asset Management, University of Akron Research Foundation, VantagePoint Capital, Vantiv, and Visa.
Members of Mercator Advisory Group's Credit Advisory Service have access to this report as well as the upcoming research for the year ahead, presentations, analyst access, and other membership benefits. Please visit us online at http://www.mercatoradvisorygroup.com.
For more information and media inquiries, please call Mercator Advisory Group's main line: (781) 419-1700 or send e-mail to info@mercatoradvisorygroup.com. Follow us on Twitter @ http://twitter.com/MercatorAdvisor.
For free industry news, opinions, research, company information and more visit us at http://www.PaymentsJournal.com.
About Mercator Advisory Group
Mercator Advisory Group is the leading, independent research and advisory services firm exclusively focused on the payments and banking industries. We deliver pragmatic and timely research and advice designed to help our clients uncover the most lucrative opportunities to maximize revenue growth and contain costs. Our clients range from the world's largest payment issuers, acquirers, processors, merchants and associations to leading technology providers and investors. Mercator Advisory Group is also the publisher of the online payments and banking news and information portal PaymentsJournal.com.