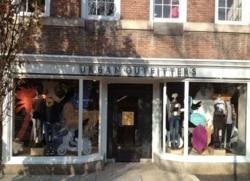 Philadelphia, PA (PRWEB) December 05, 2012
This Thursday December 6th at 10am, Urban Outfitters will open its doors in Princeton, New Jersey. Located at 42 Nassau Street, the reclaimed Talbots building is now the latest Urban Outfitters retail experience and the first in the Princeton area. The 2-story building boasts over 10,000 square feet of shoppable space. "Architectural features are the base of the store's design," explains Joe Kenny, Urban Outfitters Store Design Manager. "We exposed existing plaster walls with tons of character and an amazing terra cotta ceiling structure throughout the space," he adds.
To celebrate our entry into Princeton, Urban Outfitters will donate 10% of Thursday – Saturday's store sales to WPRB—a non-profit radio station run by the students of Princeton University.
About Urban Outfitters:
Urban Outfitters is an eclectic lifestyle retailer dedicated to inspiring customers through a unique combination of product, creativity, and cultural understanding. Founded in 1970 in a small space across the street from the University of Pennsylvania, Urban Outfitters now operates over 200 stores in the United States, Canada and Europe offering experiential retail environments and curated women's, men's, and home product assortments.
For more information contact Crystal Carroll at ccarroll(at)urbanoutfitters(dot)com