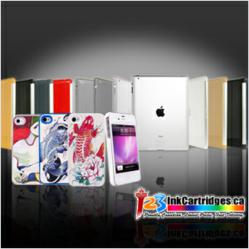 Lachine, QC (PRWEB) December 17, 2012
One of the premier online resources for accessories for iPhone just updated their product list. 123inkcartridges.ca has been adding new accessories for smart phones to their growing inventory. The latest addition includes Griffin's Elan Form Flight Case for the iPhone 4 or 4S, orchid in color. The product being offered to consumers will protect their smart phone by surrounding it with a cushion of air. 123inkcartridges.ca offers various accessories for smart phones and other technological devices. The company continues to add high quality products from which consumers can choose. The Elan Form Flight Case is just one of the wide variety of smart phone covers made available by the Canadian based company.
The Griffin Elan Form Flight Case for iPhone 4/4S is a high quality product that will protect the iPhone 4 with two full layers of protection. It also has a protective inner layer made of polycarbonate. The design will not inhibit the access to the screen, connectors, control, or camera. This is just one example of the top notch types of products that 123inkcartridges.ca continues to offer their online clientele.
The iPhone 4 protective cover is just one of the many high quality items that consumers will find on the website. Readers may view the entire line of products online at: http://www.123inkcartridges.ca/. Consumers will find a large variety of products to suit their smart phone needs. The helpful customer support staff is available to assist consumers who may have questions about any products or services. One thing consumers will notice is the affordable and reasonable prices that are available on their high quality products.
About 123inkcartridges.ca
The Canadian based company was founded with the idea that they wanted to provide only the highest quality products to consumers while also keeping the prices in a range that was affordable. They have done that so well that they have built a very broad customer base in Canada and the United States. The company started by offering printer supplies but soon added computer accessories. They continued to grow exponentially and now have many different products that can be viewed on their site: http://www.123inkcartridges.ca/.