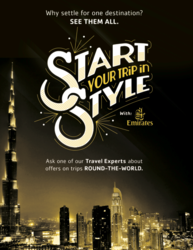 (PRWEB) December 05, 2012
STA Travel – the largest student and youth travel organization in the world – and Emirates are hosting a unique event at STA Travel locations in Seattle, WA and Los Angeles, CA. on December 6th and 7th from 12:00 p.m. to 4:00 p.m.
To give the community a taste of what STA Travel has to offer, they will be hosting a unique event by treating the community to free chair massages, tea tastings, declicious treats and much more. People intersted, are invited to register here.
When:
Thursday December 6th, 2012 12:00 p.m. to 4:00 p.m. in Los Angeles, CA
Friday December 7th, 2012 12:00 p.m. to 4:00 p.m. in Seattle, WA
Where:
920 Westwood Blvd. Los Angeles, CA 90024
4730 University Way NE, Suite 101 Seattle, WA 98105
About STA Travel
STA Travel is the youth travel expert enabling students and young adults to explore the world by creating experiences filled with adventure, discovery and personal growth. We offer a unique range of products with exclusive discounts on airfare, accommodations, tours, rail passes and more. Globally we are present in 90 countries with 400 retail locations, sending more than 6 million travelers away each year