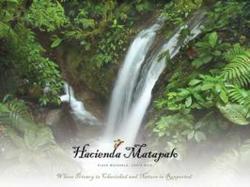 Hacienda Matapalo - It's what you came to Costa Rica for.
Playa Matapalo, Puntarenas (PRWEB) December 06, 2012
Hacienda Matapalo - the #1 best-selling real estate project in Costa Rica - remember the days of seeing the plethora of press releases and media surrounding this promising project?
Then, in the blink of an eye it all came apart.
Throughout the better part of 2009-11, Hacienda Matapalo dominated the Costa Rica real estate scene with their creative and "out of the box" marketing campaigns that promoted a lifestyle many could only dream of having.
Situated along the Central Pacific coast of Costa Rica, Hacienda Matapalo is ideally located only minutes from the popular seaside surf village of Dominical.
Playa Matapalo - although not mentioned in many tour guide books or infamous travel guidebooks like Lonely Planet or Frommers, it is considered by the select few who've had the opportunity to visit her, as one of the most pristine natural beaches in the country.
Perched just above this majestic landscape and centered amongst the world-renown Costa Rican rain forest...you'll find the 665 acre Hacienda Matapalo development.
Over the past 9 months it's been relatively quiet however as of late there has been a spark of life breathed back in the project.
Continuing with the belief in sustainable eco-friendly development practices, INDECA (project architects and design firm), have recently received their supply of electric cabling and posts to immediately begin installing electricity within Hacienda Matapalo.
"The cabling we are using at Hacienda Matapalo is not your average cable - keeping with our commitment to the environment we've chosen to install a special cable that protects wildlife and in fact, allows for monkeys and iguanas to climb freely amongst them without harm. The cabling was imported from Mexico and is ready for install in the coming weeks." said an enthusiastic representative of Hacienda Matapalo.
GIR (Gestion Integrada de Residuos) is the controlling corporation behind Hacienda Matapalo whereas previously it was a Costa Rican based company called Pegasus Star Ltd.- a subsidiary of the US-based corporation, Centam Partners, LLC.
While the naysayers were talking doubt, GIR, led by Giovanni Varela, were quietly working behind the scenes to bring Hacienda Matapalo to fruition.
GIR and it's partners have thrown it all on the table and agreed to continue advancing with Hacienda Matapalo and to deliver tangible results by way of infrastructure and permitting, they have concentrated their efforts to get the remaining permits necessary along with financing for existing buyers.
GIR is reportedly negotiating with purchasers who've invested their savings in trust that Hacienda Matapalo would be all it was marketed to be.
After all..."It's what you came to Costa Rica for."
About Hacienda Matapalo:
Hacienda Matapalo is the best-selling Costa Rica real estate project. With its high-value real estate and eco-conscious designs, Hacienda Matapalo plays an important role in supporting the biological awareness Costa Rica has come to be known for. Hacienda Matapalo is a privately held company located in San Jose, Costa Rica. Further information on Hacienda Matapalo is available on the Internet at http://www.haciendamatapalo.com.