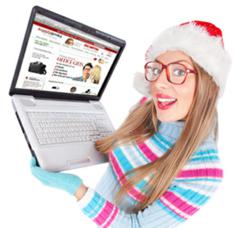 As the Black Friday and Cyber Monday numbers came in, it became clear that office gifts, home office furniture and tech gear were getting more interest.
Grand Rapids, MI (PRWEB) December 07, 2012
As many office products retailers report flat numbers, online startup SupplyGeeks.com continues to report impressive sales growth. Specific numbers were not disclosed by the Online Office Supplies e-tailer, however, they did report that sales increased 16% from an already record setting month. This tops the month of October where the pure-play B2C office products site saw a 48% increase from September. This makes November their best month of sales since launching in the first quarter of 2012.
The SupplyGeeks attribute their record month to the increased traffic from doorbuster Black Friday and Cyber Monday promotions that were expanded to run all week long. "Holiday promotions have been a pleasant surprise for us" said Director of E-Commerce Eric Houtkooper. "Being our first holiday season, we were not sure what to expect in terms of gift sales. But, as the Black Friday and Cyber Monday numbers came in, it became clear that Office Gifts, Home Office Furniture and Tech Gear were getting more interest." The SupplyGeeks.com Black Friday and Cyber Monday Week promotions included dramatically discounted items such as a Lorell 86000 Series Chair, Sheaffer Gift Collection Pen/Pencil Set, and a Fellowes 55 Piece Computer maintenance kit.
"The rate at which SupplyGeeks.com is growing is a testament to our customer service" said Director of E-Commerce Eric Houtkooper. "Our selection and service has customers coming back to a store and brand they can trust for both home and office purchases. Our customers rely on us for product guidance, both on the site and also through interactive live chat and we always give them top notch service. Especially in a time where every little bit counts so much, we want to be as helpful and convenient as we can."
The SupplyGeeks hope to keep the momentum going into the holiday season with a few planned can't miss holiday specials and deals. "We'll be offering some exciting incentives for those last minute shoppers", said Eric Houtkooper. "We'll help our last minute customers save money and get their items fast, without having to fight the long lines," says Eric Houtkooper. "We want our customers to be able to know they will get holiday gifts and supplies in time for their special occasions, which is important this time of the year."
About SupplyGeeks.com
Headquartered in Grand Rapids, Michigan, SupplyGeeks.com is an online seller of office supplies, business furniture, tech gear and more. Backed by a parent company with over 60 years of experience in office supplies, this innovative company aims to make your work experience more efficient, and whenever possible, more fun. SupplyGeeks.com Director of E-Commerce, Eric Houtkooper, was previously President of PupLife, a e-tailer of Designer Dog Supplies. For more information about SupplyGeeks, please contact Eric Houtkooper at ehoutkooper(at)supplygeeks(dot)com.