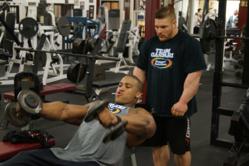 "This was the best day of my life. Everyone at Team Gaspari was great, having the opportunity to train with Flex Lewis and meet Rich Gaspari over dinner was a dream come true. I felt right at home with the team and I can't thank them enough." said Tony.
(PRWEB) December 05, 2012
Gaspari Nutrition®, a globally distributed sport nutrition company, awarded Tony Seatts of Kentwood, MI 'First Prize' in the bodybuilding portion of the 2012 Train with Team Gaspari contest. On Sunday morning December 2nd, Flex joined Joe Volgey, Vice President of Marketing, to pick up Tony for breakfast to discuss the day's events. The team then headed to Body Worx in Patterson, NJ to meet up with FLEX Magazine to train shoulders followed by a lengthy posing clinic.
Tony recently placed 2nd in the NPC Michigan and is planning on competing in the 2013 Jr. Nationals, so he was very familiar with the poses, but never had the opportunity to be critiqued and positioned by an Olympia Champion. Team Gaspari athletes are always giving back and engaging fans within the fitness community and the champion Flex Lewis is no stranger to fans around the world. He helped guide Tony on his technique and then they enjoyed a killer training session fueled by the all new Aminolast –Recovery and Endurance BCAA Superfuel, as well as Glycofuse – Rapid Performance & Recovery Supercarb. Both products feature advanced supplement innovations only found in Gaspari Nutrition products such as Osm Technology and AmmoJect Technology and have been heralded by fitness enthusiasts around the world.
Tony is one of three winners in the overall 2012 Train with Team Gaspari contest who will be vying for the grand prize of $25,000. Look for a three-part documentary training video series with Tony and Flex to broadcast on FLEXOnline.com in the near future.
About Gaspari Nutrition®
Gaspari Nutrition is headquartered in Lakewood, NJ and is a rapidly expanding, healthy lifestyle sports company that develops and distributes a full line of nutritional supplements. Gaspari's propriety and award winning products address all categories of an active lifestyle including muscle building, weight loss, and general fitness through a daily nutritional supplement regimen. They are one of the few companies to sponsor independent, 3rd party research on their products to prove their efficacy. Gaspari Nutrition is sold in over 85 countries and available in over 5,000 US retail outlets that include GNC, Vitamin Shoppe, and Kroger, as well as over 100 online stores, including Bodybuilding.com, Amazon and DrugStore.com. For more information, please visit http://www.GaspariNutrition.com.