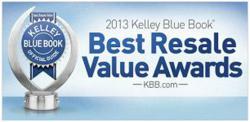 Kelley Blue Book's Best Resale Value Award for the third time in four years is a testament to Lexus' enduring value.
- Enamul Islam, Director of e-Commerce, Keyes Lexus.
Van Nuys, CA (PRWEB) December 07, 2012
Keyes Lexus is proud to announce Lexus being awarded Kelley Blue Book's Best Resale Value Award for the third year since its inception four years ago. Keyes Lexus works hard to create the best overall ownership experience, and having the best resale value is an important part of our success.
Best Resale Value Award
Since 1981, KBB has been tracking vehicle resale values and is a standard relied upon by governments, insurers, financial institutions, and the like. KBB's staff of automobile experts and analysts make their determinations based on overall vehicle quality, and brand and model perception, compared with thousands of real-world sales statistics.
The KBB Best Resale Value Award began in 2003, with the realization that most drivers do not keep their vehicles until they no longer run. Many drivers look, not only at the short-term satisfaction of their vehicle choice, but also the long term value of that investment. The first time KBB offered a Luxury Vehicle segment in the Best Resale Value Award, Lexus vehicles won in 2010, and again in 2012. Now, for the third time in the Award's four-year history, Lexus vehicles have won again.
Building on Toyota's foundation focusing on quality, safety, and value, Lexus has put these all together in a luxury package since 1989. In recent years, with increased emphasis on bold design, better performance, and comfort cues, Lexus continues to dominate the luxury segment. Ten out of fifteen 2013 Lexus models scored best in their class, including the GX, LX, and RX SUVs, the ES, GS, IS, and LS Sedans, and the LS, RX, and CT hybrids.
The Lexus Dealer
Time and time again, besides Lexus' excellent quality and engaging features, repeat buyers cite the dealer experience as being the best in the business, leading to second, third, even fourth Lexus purchases, and beyond. Keyes Lexus, the original Lexus dealer in Van Nuys, CA, first opened their doors in 1989 with the introduction of the very first Lexus LS. Since then, Keyes Lexus has built the finest reputation in the industry, and even among Lexus dealers, having won the prestigious Elite of Lexus Award for the last five years.
Right now, during the Lexus December to Remember Sales Event, running until December 31, 2012, is the best time to get into a new Lexus vehicle with enduring value. Keyes Lexus is offering special financing on 2013 Lexus models including the hybrid CT 200h, the sporty IS 250, and the new sixth-generation ES 350.
Keyes Lexus also offers the award-winning pre-owned Lexus models on our new website, KeyesBestUsedCars.com. There, our clients can find, not only pre-owned vehicles of any make and model from our whole family of dealers, but Lexus Certified Pre-Owned Vehicles as well. Scrutinized by Lexus factory trained technicians, Lexus Certified Pre-Owned Vehicles meet the highest of standards and deliver the Lexus experience
About Keyes Lexus
Keyes Lexus has been serving the luxury automobile sales and service needs of the greater Los Angeles area for over twenty years. Winner of the Elite of Lexus Award for the past five years for exceptional customer service, Keyes Lexus is ready to serve. To discover our new models or to make a service appointment, please visit our website at http://www.keyeslexus.com.