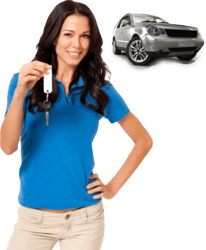 Greenville, SC (PRWEB) December 05, 2012
Today Valley Auto Loans proudly accepted a #1 lender rating for national auto loan service. The lender rating, based on customer satisfaction and speed of loan approval, placed Valley Auto Loans as one of the leading online auto loan companies in the industry.
There was an extensive list of reasons that Valley Auto Loans was chosen for this rating. Among those is the fact that they are known for their focus on customer service and satisfaction. For those struggling to be approved for an auto loan due to past credit history or lack of history, Valley Auto Loans offers one of the fastest and easiest solutions and can be applied for right at home.
The loan application can be found on their website at http://valleyautoloan.com/apply-now2/.
It takes only minutes to complete; requiring no deep personal information (such as job history or income variables), and doesn't delve into information the applicant has to prepare ahead of time for.
In addition each and every applicant using Valley Auto Loans' services can rely on 100% acceptance of their application. The company turns no one away. This is a first for a company of this reputation and stature, to offer a 100% acceptance to all applicants, but they stand by their statement, "Every application is guaranteed to be accepted".
In such hard times many people find themselves in a hard place and are desperate for a car loan, but are not able to be accepted because the hardships they have been through have ruined their credit. Valley Auto Loans has a history of working with people in just such a situation. They believe that it is the people who have been through or are currently in those hard places that need to be accepted for a car loan the most.
With all that they have to offer Valley Auto Loans is well deserving of the lender rating of #1 that they received today!
About Valley Auto Loans
Valley Auto loans.com is the leading auto and cars finance provider in USA fully dedicated to help its customers acquire national car and auto financing. They design and develop customized no credit auto and car loans, bad credit auto and car loans, and good credit auto and car loans. Voted the best for "Quality Customer Service; Best National Auto Loans Service" by thousands of people, their finance experts focus in providing its customers information and various tools available for different auto loan offers, help them to choose the best that fits their budget as well as the related eligibility guidelines in detail.