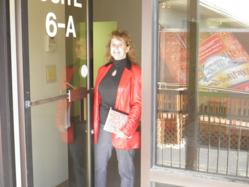 We strive to provide a creative and collaborative platform to support startup entities, small businesses and firms that provide associated services who are committed to growing small businesses and non-profit organizations in our accelerator
Frederick, MD (PRWEB) December 07, 2012
The Business Factory of Frederick is proud to announce the selection of its new home at 801 N. East Street Suite 6A.
The Factory welcomes entrepreneurs who come from across the spectrum: technology, the arts, education, service and retail. The Factory's mission is to provide a culture of creative, professional, comprehensive and fun infrastructure so that members can focus on building the success and profitability of their individual entities.
The Factory will offer more than 9,000 square feet of dynamic space for artists, creatives and entrepreneurs of all stripes on a grand opening date of January 11, 2013. Soft opening will take place in December so that early members can define their place in the Factory. Check the Business Factory's social media link for updates.
While some co-working facilities cater to solo entrepreneurs and home-based employees of large companies, the Business Factory's creators would like to not only incubate, but help accelerate businesses and non-profits with 3-5 employees who need space for their second stage of growth.
"We strive to provide a creative and collaborative platform to support startup entities, small businesses and firms that provide associated services who are committed to growing small businesses and non-profit organizations in our accelerator," said Peggy Richman, general manager of the Business Factory.
Educational sessions on business management and growth, space for client meetings and open studio space for artists will all combine for a vibrant mix of community that will thrive on excitement, innovation and fun, she said. "The culture that we establish among Factory members in our space is as important as the architecture, the furnishings and the amenities," she said.
The site was selected after a long search – watched by eager members waiting for the opening-- for the perfect space in a quadrant of Frederick where entrepreneurs and re-development are taking place. The space, which is near several startup businesses as well as established and successful entities such as Uncle Ralph's Cookies and Topline Countertops, brings together the industrial flavor of old Frederick with the new vision of high-tech entrepreneurs and the region's growing artistic community. Re-purposing and recycling past memorabilia of Frederick will not only be the anchor for the feel of the building but will be built into the interior furnishings and decoration of the space, Richman said.
East Frederick Trading Center also has practical and logistical benefits such as plentiful parking, easy access and lots of room for both office and climate controlled warehouse/studio space.
Richman has studied and visited entrepreneur collaboratives in Houston, TX, Baltimore, MD, Chicago, IL, San Francisco, CA, New York NY and Washington, DC as she developed the project.