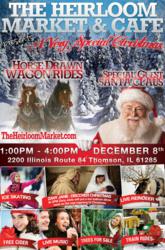 Thomson, IL (PRWEB) December 06, 2012
On December 8, 2012, The Heirloom Market & Café will host their annual Christmas event and this one is huge. They have so much Christmas joy packed into one fun-filled day that you and your family are sure to find something exciting and unique. This year the theme is "A Very Special Christmas" and they are sure to bring local residents of Thomson a Christmas event that they are sure to be talking about for weeks.
Now, when most people think of Christmas, they are taken back to their childhood days. Writer Bob Whitten regales his childhood Christmas experience with a vivid story, "Every year just after Thanksgiving, Mom and Dad would pile all the kids in the old station wagon, and we would be off to find our Christmas tree. Hot cocoa and apple cider would be served, and holiday music would play throughout the day as we picked out our tree. At the end of our trip, the tree would be strapped to the top of the station wagon, and all six children would be singing carols while the Christmas spirit filled our hearts. Life was good back then, and lasting memories were made with each adventure."
Residents of Thomson have found a place where they can recapture those days with their own children and grandchildren. All they have to do is grab the kids and head to Thomson, Illinois, for, "A Very Special Christmas".
Live reindeer, an ice skating rink, and horse drawn wagons will greet everyone as they enter The Heirloom Market and Café (the previous home of McGinnis' Market). The Heirloom Holiday Train will be offering rides for children around the property and everyone can enjoy a show by Zany Janie as she brings balloons to life with a twist on the real meaning of Christmas.
The aroma of fresh-cut Christmas trees will fill the air, while residents and their families pick out this year's tree. The staff at The Heirloom Market and Café will be on hand to help load the tree of your choice, and free apple cider awaits just inside the café to warm hands and stomachs. Live Christmas music will warm everyone's hearts as well.
Locals might even want to try out the ice skating rink. Weather permitting, the rink is open every afternoon throughout the holiday season, with skate rentals on site. A nearby fire pit will keep them all warm while their family enjoys the day.
There is no need to spend a lot of money to have fun here, just pile the kids in the car and come on down to The Heirloom Market and Café, as they present "A Very Special Christmas" this year on Saturday, December 8th from 1-4pm. New Christmas memories await everyone who comes to enjoy, "A Very Special Christmas."
For more information check out http://www.TheHeirloomMarket.com.