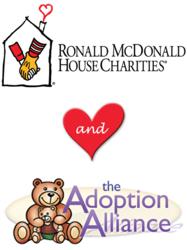 Pat Bivin, Executive Director of Ronald McDonald House Charities, said "We both help families and are very excited to partner up with Adoption Alliance whose commitment to helping families is in line with our organization"
San Antonio, TX (PRWEB) December 07, 2012
The Adoption Alliance is giving back to one of San Antonio's most beloved foundations. For every 'like' on Facebook, The Adoption Alliance will donate $1 to The Ronald McDonald House Charities of San Antonio.
http://www.facebook.com/pages/Adoption-Alliance/128537927263706
Pat Bivin, Executive Director of Ronald McDonald House Charities San Antonio, said "We both help families and are very excited to partner up with The Adoption Alliance whose commitment to helping families is in line with our organization."
Ronald McDonald House is a home-away-from home where families can stay while their children are being treated at San Antonio's various medical centers. Being away from home for days, weeks, and sometimes months can create a stressful situation for parents as they cope with a seriously ill child. The Ronald McDonald House provides parents an inexpensive place to stay other than a hospital while still being available at a moment's notice.
"I am honored to work together with a wonderful organization to create awareness, raise money, and support our hometown of San Antonio," said Justin Johnson, Executive Director of The Adoption Alliance.
Based out of San Antonio, Texas, The Adoption Alliance is a not-for-profit charitable corporation combining compassion in the field of adoption and with years of success guiding families through the adoption process. The agency staff includes social workers, counselors, educators and administrative staff members all sharing the goal of building families through adoption. Justin's passion for the adoption process began at an early age. Being the son of an adoption attorney has guided his vision to build The Adoption Alliance and reach as many families as possible.