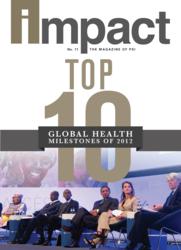 "A sentiment shared by each of the experts we interviewed was that access to basic health care, particularly for girls and women, should never be a barrier for anyone to reach their full potential," said Marshall Stowell, Editor-in-chief of Impact.
Washington, D.C. (PRWEB) December 13, 2012
In its year-end issue of Impact magazine, the global health organization PSI announced the top 10 global health milestones for the year 2012. The issue contains interviews with some of the world's most renowned leaders in global health who comment on why each of the top 10 events, health interventions and milestones made the list.
"A sentiment shared by each of the experts we interviewed was that access to basic health care, particularly for girls and women, should never be a barrier for anyone to reach their full potential," said Marshall Stowell, Editor-in-chief of Impact. "Better health has the power to lift families, communities and countries from the lowest rungs of poverty."
The year 2012 saw great progress in global health - most notably the audible and significant financial commitments made to expand family planning efforts, and India's remarkable achievement of realizing one year without a single reported case of Polio.
Also notable but more nuanced was a paradigm shift that took place in the way partners across various sectors are working together to achieve common goals. This was a result of many factors including the global economic downturn, changes in the way development funds are being disbursed and the ever-growing interest from the corporate sector in emerging economies.
Below are ten (among many) reasons to celebrate progress in 2012:
#1 London Summit on Family Planning Ignites $2.6 billion in Commitments
"What the Summit did was put the spotlight back on family planning. More than 150 leaders from donor and developing countries, international agencies, civil society, foundations and the private sector pledged US$2.6 billion toward a plan that will enable an additional 120 million women and girls in the world's poorest countries to have access to contraceptive information, services and supplies."
– Dr. Gary Darmstadt, Director of Family Health and Dr. Chris Elias, President of Global Development, Bill & Melinda Gates Foundation
"If we are going to be successful in tackling poverty, women have be able to decide, freely and for themselves, whether, when and how many children to have."
–Mark Lowcock, Permanent Secretary, UKAID
#2 India Celebrates 1 Year Free of Polio
"As we enter 2013, it is imperative that we focus our efforts on stopping polio in the endemic countries to prevent the 'importation' of cases into polio-free countries, the key to achieving total eradication."
–Dr. Robert S. Scott, International PolioPlus Committee Chair, The Rotary Foundation of Rotary International and Deepak Kapur, National PolioPlus Committee Chair, India
#3 The Governments of the US, India and Ethiopia, in coordination with UNICEF, Convene a Child Survival Call to Action
"In the past last 40 years, thanks to advances in science, technology, service delivery and programs that create informed demand for health services, child deaths have been reduced by more than 50 percent. The Call to Action challenged the global community to do even more – to reduce child mortality to below 20 child deaths or fewer per 1,000 live births in every country by 2035."
—Dr. Ariel Pablos-Mendez, Assistant Administrator for Global Health, USAID
#4 Global Child Mortality Declines
"Today in 2012 we know more than ever before about which interventions and which equity-based implementation strategies can make a difference for these children. As a result more and more countries are using innovative approaches to scale-up coverage and more children are being reached than ever before."
—Dr. Nick Alipui, Director, Program Division, UNICEF
#5 International AIDS 2012 Conference Touts AIDS-Free Generation
"AIDS 2012 clearly highlighted how far we have come in responding to this virus. In presentation after presentation, we heard the incredible impact of scientific research and an evidence-based response to AIDS, both in the U.S. and around the globe. It was inspiring to hear how program implementers are translating recent scientific advances into practice to save lives."
—Eric Goosby, US Global AIDS Coordinator
#6 Public-Private Partnerships Thrive
"Merck for Mothers is exploring how to strengthen local private health providers as well as health businesses (like pharmacies), which is why we decided to collaborate with PSI, an expert in franchising. Our new joint project, called the MUM Partnership, seeks to improve maternal health by working with private healthcare providers, pharmacies, drug wholesalers, transportation operators, and others to improve the quality, accessibility, awareness, and affordability of care women receive during pregnancy and childbirth."
—Geralyn Ritter, Senior Vice President of Global Public Policy & Corporate Responsibility, Merck
"Forty percent of the world's population—2.5 billion people—use unsanitary or unsafe pit latrines or practice open defecation, and the consequences can be devastating. One of the most shocking is this: Every year, food and water tainted with fecal matter cause up to 2.5 billion cases of diarrhea among children under 5, resulting in 1.5 million child deaths."
—Doulaye Kone, Senior Program Officer, Bill & Melinda Gates Foundation
#8 Nutrition Movement Gets Its Turn
"Undernutrition has a long-term impact on our nations' health, economies and security, and in the last two years, the political will and leadership to tackle global undernutrition has been unprecedented. While there are many challenges ahead, recent global commitments, country policies and programs, and new partnerships are meaningful indications of nutrition's elevated role on the development agenda."
—Anne Peniston, Nutrition Chief, USAID
#9 Removing Basic Health as a Barrier to Success for Girls
"Public budgets have constricted, and as a result, governments alone do not have the capacity to address serious challenges like HIV, family planning, pneumonia, and malnutrition, without strong partnerships. What is needed now are private investments and private-public partnerships to springboard scientifically proven health solutions that have the potential to reach millions of girls and women."
—Her Royal Highness, Crown Princess of Norway, Mette-Marit
#10 GAVI Includes HPV in Vaccine Portfolio
"In 2013, the good news is that young girls (aged 9 to 13) living in poor countries can get access to the same protection from cervical cancer as girls living in wealthier nations. GAVI is supporting countries in introducing vaccines against the human papillomavirus (HPV), the cause of almost all cervical cancer."
—Dr. Seth Berkley, CEO GAVI Alliance
To read the complete issue of Impact Magazine, click here.
-------
PSI is a global health organization dedicated to improving the health of people in the developing world by focusing on serious challenges like a lack of family planning, HIV/AIDS, barriers to maternal health, and the greatest threats to children under five, including malaria, diarrhea, pneumonia, and malnutrition. http://www.psi.org