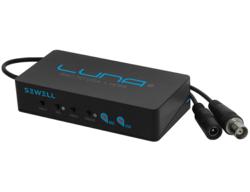 Sewell's new Luna is the first of its kind to convert composite BNC signals used in security set-ups to VGA and HDMI for consumer flat screens.
Orem, UT (PRWEB) December 06, 2012
On December 5th, Sewell announced their newest innovative product, the Luna BNC to VGA + HDMI Converter. Sewell has offered BNC to VGA products in the past, but the company has received a lot of feedback from the security installer community about the growing need for a BNC converter for digital monitors that the carry HDMI inputs. Sewell's marketing and engineering teams worked together to provide for this demand and the product was the Luna, the world's first device to allow users to convert BNC to VGA and HDMI.
The Luna converter is great for video devices which output composite signals through a BNC port such as security cameras, surveillance DVRs, multiplexers and quad video processors. Traditionally, security and networking professionals have used BNC monitors with their CCTV systems. These specialized monitors are more costly than typical consumer VGA, DVI, and HDMI monitors, and they are usually limited to smaller sizes. Security professionals can now use larger flat screen monitors and TVs. Home users can also integrate the HDMI signal from their security system into their home theaters with the aid of this converter.
The device also features VGA pass-through, which allows the user to switch between VGA and BNC sources without having to swap cables.
"This converter is so useful because most high definition monitors and TVs today use HDMI," Sewell Product Manager Brett Beatty said. "This should be a great tool for both security professionals and home users."