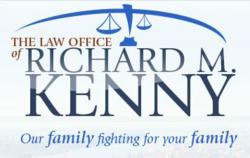 New York, NY (PRWEB) December 06, 2012
When a natural disaster occurs in the United States, it can leave many people without homes and money to afford repairs. Earthquakes, fires, floods, winter storms, tornadoes, and hurricanes are all legitimate natural disasters that displace people from their homes or leave them without finances every single year. As natural disasters are unavoidable—and helping the victims of these disasters is necessary—there are times that the victims can obtain financial compensation from the government. This involves an application process.
Attorney Richard M. Kenny and his associates are dedicated to helping those who have been affected by a natural disaster in any way that they can. This firm is home to Attorneys Richard M. Kenny and James Lundy, who litigate for people in New York City and surrounding areas. The Law Office of Richard M. Kenny only wants to give clients the best representation. That is why they are devoted to personalized service and to treating their clients as individuals.
Richard M. Kenny has been selected for inclusion in New York Super Lawyers®, which means he has been honored along with a mere 5 percent of all attorneys in the state. As well, the firm is a part of the Million Dollar Advocates Forum®, which only accepts attorneys that have received over $1 million in settlements in the past. The Law Offices of Richard M. Kenny also has a permanent membership in the Who's Who of American Lawyers and they are members of the Legends Society of Top Lawyers in the United States.
One of the ways that the Law Office of Richard M. Kenny is able to help clients is by litigating in natural disaster cases. FEMA admits that there are more natural disasters in the U.S. now then there have been in the past, but only about 50 percent of these natural disasters allow for federal assistance. Last month, citizens of Long Beach Island, Freeport, Oceanside, the Rockaways, Breezy Point, and surrounding areas were left without power after Hurricane Sandy knocked out many of the power lines. As the east coast begins to go back to everyday life, men and women are also starting to look for ways to receive the help they deserve.
In the wake of a natural disaster, locating a party at fault can be difficult. That's why the Law Office of Richard M. Kenny wants to help. Recently, Attorney Kenny was certified after attending a class given by FEMA administrators about Hurricane Sandy and legal action in cases regarding the hurricane. Mr. Kenny now has a better knowledge of the bureaucratic system and will be able to analyze hurricane hardship stories and determine whether or not victims have the ability to apply for compensation. As well, Mr. Kenny has learned about what paperwork is needed to accompany a claim form.
With this new knowledge, Mr. Kenny chose to set up a station in New York and assist those that needed information about filing personal injury claims after the storm. He provided this information pro bono because he believed that it was the least he could do for those that suffered deeply in Hurricane Sandy. During his time at the FEMA class, Mr. Kenny learned that the process to apply for compensation after a natural disaster is often complicated. Still, he wanted to help those that needed his aid to learn more about natural disaster litigation in the United States.
The Law Office of Richard M. Kenny is a two-attorney firm located in NYC. The compassionate lawyers at this firm are devoted to helping those in need. In the past, the Law Office of Richard M. Kenny has helped aid the victims of 9/11 and Hurricane Sandy free of charge. At this law firm, litigation is not a career, but a life's passion. The firm wants to help those in need by providing the representation necessary. Interested parties can learn more about the Law Office of Richard M. Kenny by visiting http://www.rmkinjurylaw.com.