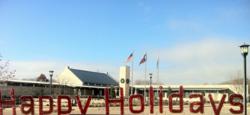 Sunnyvale, Texas (PRWEB) December 06, 2012
Holiday revelers attending the annual Town Christmas Tree Lighting at the Sunnyvale Town Hall this Friday will have more reason to celebrate as they take in the sights and sounds of the season. The Town Hall has undergone a dramatic facelift over the past several weeks to become a beautiful winter wonderland, with new landscaping, ornamental trees, and twinkling lights—all installed by the busy elves of Dallas landscape design company Scapes Incorporated.
Members of the Sunnyvale Town Council initially solicited input from several local landscape design and construction firms for preliminary concepts for the design and installation of the city's landscape and lighting project. In addition to time and budgetary considerations, the main goal was for everyone involved in the project to work as a team, so that the residents could enjoy a beautifully landscaped Town Hall to bring some holiday cheer. After David Devlin presented his Dallas landscape design company's stunning landscaping and lighting plan for the city, Scapes was awarded the contract, and lead designer and partner Russell Gibson immediately put the team into action.
"Our experience with Scapes has been outstanding," says Scott Campbell, Town Manager for Sunnyvale. He adds, "We were in a situation requiring a high-quality work product in a very short timeframe. They were dedicated to the job and finished ahead of time, with an end result that far exceeded our expectations."
The new landscaping includes a wide variety of trees, shrubs and flowers to create diverse textures and colors all around the Town Hall. From stately magnolias on either side of the flagpoles to stone planters filled with native grasses, such as green fountain and red rooster, the landscape is alive with color. Blooming roses and ground cover fill the beds closest to the building, while Specimen Japanese Maples stand out beautifully against the stone façade. Elsewhere, a xeriscape-style design features a Chinese Pistachio with a bubbler head at the base, and ornamental red muhly grass in a bed of decomposed granite.
"We basically started from scratch and did a whole landscape with evergreen shrubs and diverse plants that could take the extreme heat we get in the summer and potential freezes we get in the winter," says David Devlin, co-owner of Scapes Incorporated. Devlin and the team at his Dallas landscape design company have won numerous awards for their work over the past two decades and specialize in landscaping that works for the unique Texas climate.
Notes Devlin, "We included many of the flowering plants that do well here in the town's plans, like Stella d'Oro daylily, red Turk's cap, Knockout roses, crepe myrtles, and red yucca."
The unveiling of the new landscaping at Sunnyvale Town Hall will take place at the Town Christmas Tree Lighting at 7 p.m. this Friday, December 7, 2012. The Sunnyvale Middle School Choir and a special visitor from the North Pole will be helping to spread Christmas cheer at the event.
About Scapes Incorporated
Dallas landscape design company Scapes Incorporated has been designing, building and maintaining outdoor environments throughout the DFW Metroplex for more than two decades. Co-founders David Devlin and Russell Gibson, together with their award-winning landscape design team, serve their residential, commercial and municipal clients with the utmost professionalism and a commitment to exceeding expectations.