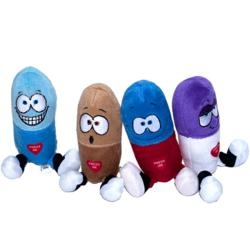 This year, Stupid.com is filling customer's stockings with funny gag gifts right up until the very last minute of the holidays.
Los Angeles, CA (PRWEB) December 17, 2012
Finding funny and affordable stocking stuffers can be a tricky challenge, especially for last minute holiday shoppers looking for a good laugh.
Luckily, Stupid.com, internet retailer of funny gag gifts and novelty gifts, has jammed packed their virtual shelves with hilarious and cheap gifts under $10.
With guaranteed Christmas delivery shipping up through December 21st at Noon EST, the online-based company is stocked and ready to fill the stockings of holiday procrastinators everywhere.
"This year, Stupid.com is filling our customer's stockings with funny gag gifts right up until the very last minute of the holidays," says Justin Scott, Vice President of Stupid.com. "It's not over until the fat man eats the last Christmas cookie!"
Here's a quick guide to 7 of Stupid.com's most wacky and affordable last minute stocking stuffers:
Funny Stuffed Talking Pills - Take a holiday chill pill, literally! These tiny stuffed pills come in 4 different styles, from Gas Relief, to Happy Little Blue, and talk when squeezed. ($6.50)
Bacon Stockings - Deck the halls with boughs of Bacon! A great gift for guys, this giant red and white Bacon Stocking is the sizzlin' solution to what every man really wants - and the answer is always Bacon.($9.50)
Yoda Santa Hat - The holidays will be in full force - Star Wars style - when wearing this festive Santa Cap with giant green Yoda ears on the side. ($9.50)
Cupcake Dental Floss - Who says dental hygiene can't be sweet? This fun treat is a great gift for kids and makes brushing not only fun, but taste like cupcakes. ($3.50)
Gummy Army Men - Little troops everywhere will be standing at attention when they see these yummy green guys in their stocking. They're fun to play with, always ready for command, and great to eat. ($2.99)
Little Poop Holiday Ornament - Trim the tree the crappy way with these little piece of plastic doo. Yes, it's pretty gross - but sure seeing little turds hanging from the branches of a holiday tree or wreath is sure to make anyone smile. ($3.99)
Grow Your Own Snow - Ideal for those living in more tropical climates, this little tube of fun instantly turns any Christmas into a snowy wonderland. Just add water and watch the snowflakes appear. Just don't ask how it works, because it's magic. ($3.50)
All these gifts and more can be purchased at Stupid.com and select gift shops nationwide.
About Stupid.com:
Since 1998, Stupid.com has been spreading laughs around the world, one funny gift at a time. Today, with over 2,000 unique gag gifts and 200 crazy shopping categories, the company is the online industry expert in finding the most outrageous handpicked stupidity on planet earth, and bringing it to the masses.
Stupid.com – Shop for Laughs!