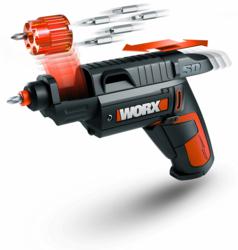 (PRWEB) December 06, 2012
The new WORX® SD SemiAutomatic Driver is turning heads when to comes to driving screws There's no craning your wrist or deciding which way to turn the tool. In fact, in an independent test, conducted in November, the WORX SD was preferred over Black & Decker's® Gyro™ by 3 out of 4 consumers surveyed (AOC Research, Charlotte, NC, http://www.worxsdvsgyro.com for study details).
What makes the WORX SD Driver unique is its six-slot revolving chamber, housing six, 1-in., hex-shanked bits. Slide back the top of the tool, then push it forward, and a bit launches into the chuck. Keep doing this cock-and-load action and you'll have six bits to choose from in no time flat.
There's even a pint-size screw-starting drill bit to sink pilot holes. This is handy when starting screws in drywall or wood. Mix and match slotted, Phillips, Torx® and square recess bits in the two revolving bit cartridges to meet your project's needs. Since 1-in., hex-shanked bits are widely available at hardware stores and home centers, you can even customize each cartridge to meet specific needs.
The WORX SD SemiAutomatic Driver is powered by a 4V Lithium-ion built-in battery. Lithium-ion batteries can hold a charge for up to 18 months. The plug-in charger recharges the driver in 5 hours. Constructed of nylon composite with a comfortable, smooth rubber grip on the handle, the SD driver has a two-finger trigger, an LED light to illuminate the work area, plus a forward/reverse rotation button to change direction. The 1.0 lb. tool has a ¼-in. chuck, no-load speed of 230 rpm and maximum torque of 27 in.-lbs.
The SD kit includes the SemiAutomatic Driver, 2 bit cartridges containing 6 screwdriving bits (12 total): Phillips #0, #1, #2; Slotted #4, Hex #3, #4, #5mm; square recess #1, #2 and T10 and T20 Torx bits, screw starter drill bit, plus charger.
The WORX SD SemiAutomatic Driver (WX254L, $49.99) is available at http://www.worx.com and other websites, including Menards and Lowe's, as well as regional hardware and home centers nationwide.
# # #
Editor's Note: Media Contact: MKM Communications at 847-255-1903 or mkmcomm(at)gmail.com