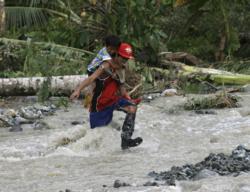 Our volunteer teams are already on the ground, braving through debris and mud, making sure that we leave no one behind.
Redwood City, Calif. (PRWEB) December 05, 2012
The 16th tropical cyclone of the year hit Visayas and Mindanao, the southern islands in the Philippines. As typhoon Pablo (international name: Bopha) continues to traverse, it has already taken with it 322 lives, as reported by ABS-CBN News. First responders are on the ground battling flood and mud that stand between them and survivors. ABS CBN Foundation International announces that it is currently accepting donations to assist in rescue operations and providing aid to over 86,000 families that are now in evacuation centers where they are temporarily sheltered.
Contributions can be made to "ABS CBN Foundation International (Typhoon Pablo)" online at http://www.abscbnfoundation.org or via cheques to 150 Shoreline Drive, Redwood City, CA 94065.
The once lush gold-rush mountain barrios are now a wasteland of fallen trees and shreds of homes that have been ripped apart by the wrath of the deluge. Families were washed away and what remains is the eerie wail of cries for help by survivors. As hundreds more are still missing, rescue remains to be a race against time.
With maximum winds at 259 kilometers per hour, American meteorologists compared Typhoon Pablo to Category 5 cyclones, marking it as the strongest typhoon ever recorded in Mindanao. 52-foot waves were recorded at nearby seaside towns.
"Typhoon Pablo swept through schools, clinics, and homes and claimed with it entire families. Those who were left behind need our help with tremendous urgency," says Jo Ann Kyle, Managing Director for ABS CBN Foundation International. "Our volunteer teams are already on the ground, braving through debris and mud, making sure that we leave no one behind."
As of today, the storm warning signals have been lifted in the Southern regions of the Philippines. But as the wind sustains at an alarming speed, other provinces are kept on alert. All contributions to ABS CBN Foundation International will go towards the provision of food, clean water, and medical aid.
# # #
ABOUT ABS CBN FOUNDATION INTERNATIONAL:
ABS CBN Foundation International is a 501(c)3 non-profit organization dedicated to improving the lives of disadvantaged Filipino families in the Philippines and around the world. Its flagship program, Bantay Bata (Child Watch), is a child abuse rescue operation that responds to an average of 15,300 calls for assistance a year. The program assists more than 21,000 children and families in relocation communities and feeds at least 4,400 severely malnourished children a year. Its education program serves 4.2 million elementary school children and their teachers. Other programs include Sagip Kapamilya (disaster rescue, relief and rehabilitation), ETV in schools (school reform in elementary schools) and Sagip Kalikasan (environmental programs).
In the United States, the organization partners with Filipino-American organizations and associations in addressing community issues - youth truancy, housing, issues affecting the elderly, health, and emergency needs. For more program information, visit http://www.abscbnfoundation.org.