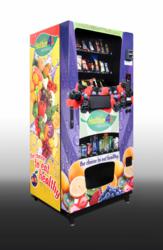 Las Vegas, Nevada (PRWEB) December 06, 2012
Jonathan Hayes has a true passion for flying, so becoming an airline pilot was a natural career choice. But Hayes' entrepreneurial spirit and regular down time have also allowed him to venture into small business. His latest endeavor is a healthy vending machine franchise, a trend that has seen steady growth over the past few years.
"I love the idea of having a successful business that my kids can run after they get out of college. I would rather employ my kids than employees because it would be a great way for them to fully comprehend the concepts of microeconomics, merchandising, analysis and cost of goods." Hayes had two previous successful small business ventures in the past 6 years, a mortgage brokering business as well as a jet management company. So what led Hayes to the healthy vending industry?
One year ago Hayes was researching franchises but the idea of healthy vending came out of a personal need that his busy lifestyle demanded. Jonathan makes fitness and nutrition an integral part of his every day life. "When I didn't have a chance to pack a cooler I noticed that healthy options were limited. There was definitely a need for an affordable and quick way to grab something that wasn't the equivalent of feeding your body junk. I knew I wanted to fill that void immediately and so Smart Snax was born." Another major contributing factor in his decision making process was the demographic market lends itself to success. It is comprised of a very high percentage of active fitness and nutrition minded individuals. The reason that many of the organic companies are based in Boulder is because the market is viable.
After working with his initial vending machine company Jonathan became a Healthier 4 U Vending affiliate. Hayes stated the reason being overall disappointment. "I was not pleased with the quality of the overall program and their low level involvement. There was a definite lack of expertise in the coaching department. After the sale was complete I got very little out of it. The machines were also an older technology and I knew I wanted to grow with the newest technology available. Overall I really felt a sense of partnership buying into Healthier 4 U Vending with Brian." Brian Swain is the CEO of Healthier 4 U Vending. He launched the company in 2011 and has grown with affiliates across the United States. Jonathan currently has five vending machines in Boulder but due to overwhelming success he is expanding as quickly as possible.
Lynn Scicero of First RF is a client of Jonathan's. At her request Jonathan placed a vending machine in her office building. When asking Lynn why she decided to go with healthy vending Scicero stated "I was researching alternatives to junk machines and came across Smart Snax. We are paying our employees 100% health benefits, so we need to offer healthy alternatives and better choices. Our goal is to make the choices and leave the employees to choose products. Overall we are really happy with our choice of vending."
Healthier 4 U Vending provides healthy snacks distributed from innovative American made machinery. To learn more about the company, products or to become an authorized location please visit http://www.freehealthyvendingmachines.com or call 1.800.642.2148.