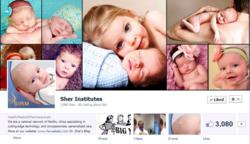 Just being able to enter these contests is healing for me. It reminds me of how far I have come and how fortunate I am.
Las Vegas, NV (PRWEB) December 06, 2012
Infertility is a disease that strikes one out of six couples of child-bearing age. For these couples, the Holiday Season is an exceptionally difficult and stressful time. They are bombarded with images of babies on Facebook, holiday cards and TV commercials. And yet, their arms are still empty.
For many childless couples, cost is a major barrier. An IVF Cycle costs upwards of $10,000 and is not covered by most insurance companies. This is why Sher Fertility Institute developed "Hope for the Holidays" with their "I Believe" Video Contest. Couples submit a video chronicling their story and why they deserve to win a free IVF Cycle. Voting takes place over the internet. From the finalists, past winners select this year's winners.
The videos are raw, emotional testimonials of couples who desperately want a child. (View the video contest entries here)
Critics have claimed that these "contests" are unethical and take advantage of vulnerable, desperate people with a unique kind of video voyeurism. Tell that to Vicki Lyons and Walter Hankel, of Westchester, New York who were winners of the 2011 essay contest. The couple underwent IVF treatment in March and welcomed twin girls to their family in November of 2012.
Vicki posted a photo of the twins on Facebook along with this encouragement for other couples entering this year's contest: "I was you last year! I though our chances were as good as winning the lotto! Well I won something better than the lotto… I was given a cycle that resulted in two beautiful angels! Good luck to all of you. I hope you all get miracles for Christmas."
The fertility clinic has attracted media attention in the past for its donations of free IVF treatment through video and essay contests, and through random drawings at its educational seminars. In June, a national magazine and a national news station each ran a story that examined the ethical considerations of Sher's IVF giveaway.
"Are we aware that this may be perceived as a publicity stunt?" said Geoffrey Sher, MD, founder and Executive Medical Director for the Sher Institute. "Of course we are, and we considered the ramifications of this carefully for several years before deciding to offer our first free donations in 2010. What I can say after nearly 50 such donations is that the reaction from all but a very small handful of detractors has been overwhelmingly positive."
A large majority of couples that have entered the contests – including those couples who haven't won – have expressed that the experience helped them connect with other couples in similar circumstances, and had a cathartic, healing effect on them.
"Just being able to enter these contests is healing for me," said Mary Clement. "I re-read my essay from the first contest and watch my video all the time. It reminds me of how far I have come and how fortunate I am. I have been in the trenches of infertility for 14 years, and I have never encountered another clinic with the same compassion and generosity."
The deadline for contest entries is 5:00 PM Pacific Time on December 7, 2012 and voting will begin on December 11 on the Sher Institute website (http://www.haveababy.com). Winners will be announced on December 20.
About Sher Fertility Institute
The Sher Fertility Institute is a national network of fertility clinics specializing in cutting-edge technology, personalized infertility treatment and compassionate care. Through their "Giving Back" program, they have donated hundreds of free fertility treatments to deserving couples and have helped many women freeze their eggs prior to cancer treatment. There are eight Sher Fertility Institute locations across the United States including New York City and Westchester, NY; Dallas, TX; Las Vegas, NV; St. Louis, MO; Peoria, IL; Asbury, NJ and Bethlehem, PA. More information can be found on the Sher Institute website at http://www.haveababy.com