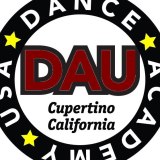 Everyone at DAU is so excited to be involved with the Bay Area community and share their love for dance..." Marisa Cruz
Cupertino, CA (PRWEB) December 06, 2012
On Sunday, December 9th, Dance Academy USA's Performance Team will be performing their annual holiday routine. This year's performance will be at Christmas in the Park in Downtown San Jose, CA on the entertainment stage. Performances will begin promptly at 4pm. This week's performance follows last week's successful debut at Christmas in the Park.
Dance Academy USA Performance Team (DAUPT) is DAU's newest addition to their successful school of over 20 years. The team consists of seventy dancers ranging in age from five to sixteen. Marisa Cruz, Community Outreach Director in charge of DAUPT exclaims, "The performance team is the perfect opportunity for our dancers who want to perform throughout the community without the competition environment." DAUPT provides dancers with a chance to be a part of a dynamic dance team, expand their creative expression and foster new relationships that will last a long time.
Dance Academy USA is honored to join with other performers this coming Sunday afternoon at Christmas in the Park. This event provides local performers the opportunity to showcase their talent on a beautiful 'self contained' stage. Located at 101 West Santa Clara Street in San Jose, CA, Christmas in the Park showcases daily and nightly performances for the Bay area community to enjoy. Marisa Cruz also states, "Everyone at DAU is so excited to be involved with the Bay Area community and share their love for dance. As they travel to various venues around Santa Clara County, they promote DAU through their pure enthusiasm for performing." Those interested in learning more information about Dance Academy USA are encouraged to visit their website at DanceAcademyUSA.com or email them at OfficeTeam(at)DanceAcademyUSA(dot)com.
Background
Dance Academy USA was founded in 1990 by Jane Carter. The studio has since expanded in size, becoming the largest dance studio in Northern California with a staff of over 50 employees. Jane Carter is a graduate of San Jose State University with a degree in Human Performance and Fitness and a minor in Nutrition and Food Science. While at San Jose State University, Jane was a member of Spartan Spectrum Dance Team. While in college she was also selected as the Dole Corporation "Ambassador" which allowed her to teach dance in Japan. Additionally, Jane is a former dancer for the Golden State Warriors and a professional cheerleader for the San Francisco 49ers.