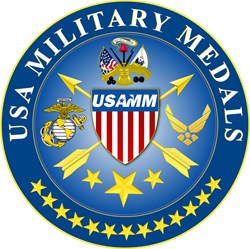 The Washington National Guard can always rely on us to supply their awards, and we're extremely proud to do so.
Milwaukie, OR (PRWEB) December 06, 2012
Local uniform superstore, USA Military Medals is now stocking the Washington National Guard Ribbons, here, today, providing active and veteran U.S. Army National Guard service members the awards through UMM's e-commerce stores, their brick-and-mortar location in Milwaukie, and the popular EZ Rack Builder –a program available exclusively at http://www.usamilitarymedals.com/rackbuilder.html.
From military slang, a military ribbon or medal "rack" represents the colorful rows of awards typically found above the wearer's left pocket on U.S. armed forces dress uniforms.
Headquartered at Camp Murray, Wash., the Washington National Guard consists of two Wings and an Air Defense Sector: 141st Air Refueling Wing (headquartered at Fairchild Air Force Base in Spokane) 194th Regional Support Wing (headquartered at Camp Murray) Western Air Defense Sector (headquartered at Joint Base Lewis-McChord.)
At the call of the Governor, the Washington National Guard will mobilize and deploy during times of state emergency to protect lives and property, and is also subject to the call of the President of the United States to serve as part of the total U.S. Military force.
"UMM knows what these Soldiers go through for our nation," said Luke Holden, USAMM, LLC Purchasing Director. USAMM owns and operates USA Military Medals along with various other military uniform e-commerce stores.
"The Washington National Guard can always rely on us to supply their awards, and we're extremely proud to do so," said Holden.
Available in thin and standard-style ribbons, UMM's selection of Washington National Guard awards includes personal awards and some unit citations. A "thin" ribbon is a sleek, streamlined ribbon, more lightweight than the traditional standard military ribbon.
"National Guard awards are not an easy find, especially all in one place, and especially if they are needed at the last minute," said Holden.
"We ensure Soldiers' awards are clearly represented and professionally assembled, quickly and accurately –very few can do that," said Holden.
USA Military Medals is an internet-based company formed in 2005, carrying more than 120,000 dress uniform products in stock and specializing in custom military medal and military ribbon rack production with their state-of-the-art rack builder. USA Military Medals also operates a brick and mortar store servicing local military personnel and veterans.